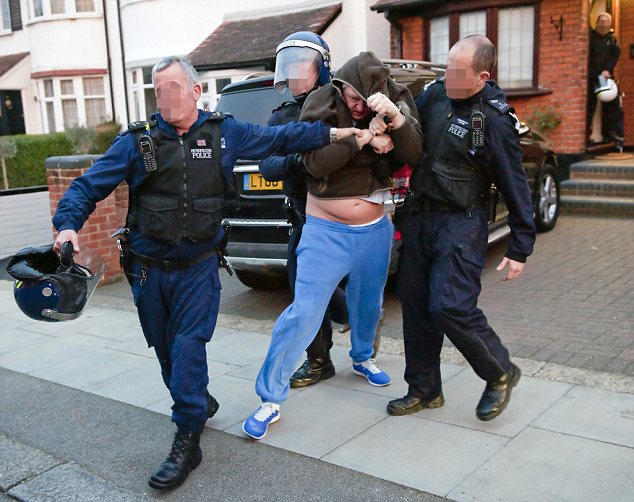 Seven suspected multimillion-pound fraudsters said to belong to the notorious Adams crime family have been arrested after Met Police officers swooped on addresses across London and Sussex.
Approximately 50 officers and specialist financial investigators arrested the suspects on suspicion that they have laundered huge sums of money through a crooked investment scheme.
The suspects - four men and three women - included a trained accountant-turned-property developer and a solicitor.
They were detained at properties in London and Sussex on Wednesday during raids. Officers seized £100,000 cash at an address in Shoreditch, east London.
The Metropolitan Police said the arrests, which were part of operation Octopod, targeted the UK's "longest established and most high-profile organised crime gangs". IBTimes UK understands its aim was to disrupt north London gang the Adams family.
Two of those arrested were Michael Adams, 48, and his wife Debra, 46, who were detained after police in riot gear raided their five-bedroom home in Finchley.
The seven suspects arrested were:

a man believed to be in his 40s, from Finchley, for money laundering and cheating the public revenue
a woman believed to be in her 40s, from Finchley, for money laundering
a man believed to be in his 60s, from Hendon, for money laundering
a woman believed to be in her 30s, from Dartford, for money laundering
a man believed to be in his 30s, from Limehouse, for money laundering and theft
a man believed to be in his 50s, from Dorking, for money laundering
a woman believed to be in her 70s, from Shoreditch, for money laundering

No one has been charged with any offences
The arrests were the Met's latest attempt to tackle organised crime in London and follow February's large-scale sweep for Adams' affiliates.
Then 200 officers executed warrants at 22 addresses across the capital, seizing firearms, luxury watches and £150,000 in cash and arresting 15 people, who have all been granted bail to appear in court in June and July.
DCI Tom Manson of the specialist, organised and economic crime command, said: "The group as a whole is known to be involved in serious and violent crime which is harming people and damaging communities across London. We believe that those arrested today are laundering huge quantities of cash.
"We believe that they - with other members of the group - are responsible for a multimillion pound criminal business, the proceeds of which are laundered and either pumped into other illegal money-making schemes or spent on luxurious living."
Adams Family - organised criminals who live like kings


The Adams Family crime syndicate was formed during the 1980s and has since grown into one of the biggest and most feared in the UK.

Also known as the Clerkenwell crime syndicate, or the A-Team, reports have linked the group to at least 25 murders. It is believed to have laundered approximately £200m.

Police say the gang is led by Terry Adams with his brothers Sean, better known as Tommy, and Patrick Adams.

Their connections are said to ripple right the way through the British establishment, with a leaked report suggesting they had infiltrated HM Prison Service, HM Revenue and Customs, City of London Police and the Crown Prosecution Service.

They are said to have risen to become one of the most powerful cartels through a combination of drug trafficking, extortion and fraud mixed with violence and murder.

In 2003, detectives found art and antiques valued at around £500,000, £59,000 in cash and jewellery worth more than £40,000 at Terry Adams' home.