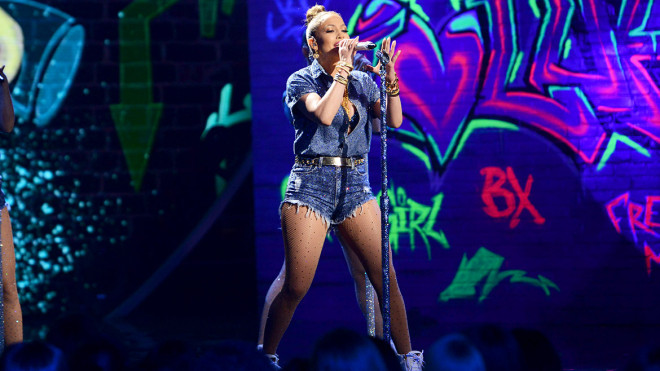 With the elimination of MK Nobilette on Thursday, the top 10 finalists of the American Idol have been reduced to nine. However, it was judge Jennifer Lopez who hogged the limelight by performing her latest chart bursting single 'I Luh Ya Papi' along with the surprise guest, French Montana.
Lopez performed her hit song along with past Idol contestants Pia Toscano, Jessica Sanchez and Allison Iraheta before asking them about their favourite contestants from the current season.
The singer/actress just showed the contestants how to give a live performance with her electric presence during the elimination episode of the singing reality show.
J Lo was looking gorgeous in skimpy denim cut-offs paired with glittery tights and a furry parka. The singer accessorised her outfit with big earrings, white wedge sneakers and a tight bun.
The Live It Up singer performed some charismatic moves naturally on the Idol stage, including some head-banging steps and reminded the Idol viewers that she is still game on.
Later, this week's bottom three contestants Dexter Roberts, Majesty Rose, and MK Nobilette were lined up for the elimination round.
Nobilette gave an emotional performance on John Legend's classic 'All of Me' and left Lopez in tears, but alas, the pop sensation too couldn't save Nobilette's fate.
This week, the season 13 of American Idol bids adieu to Nobilette, who failed to impress audience.
Meanwhile, Alex Preston bagged the 'Smartest Song Choice' title and Malaya Watson gave a thunderous performance on Bruno Mars' 'When I Was Your Man'.
Watch this space for more updates on the American Idol Season 13.