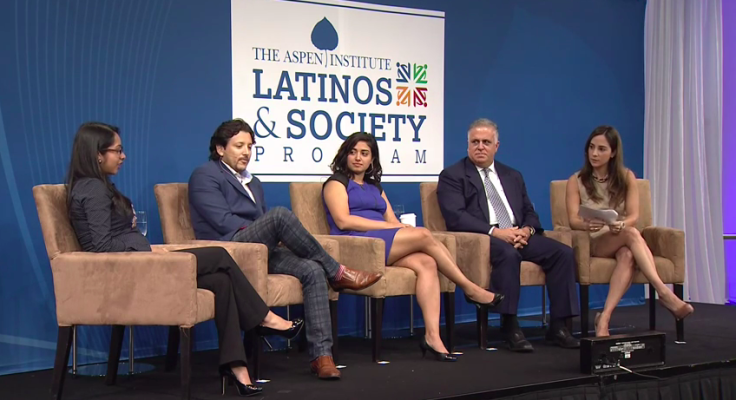 The Aspen Institute's Latinos and Society Programme launched a new summit earlier this week to highlight and discuss Latino issues to a wider US audience. The programme's executive director Abigail Golden-Vazquez spoke to IBTimes UK about the inaugural summit and what the programme hopes to achieve.
The two-day summit, held on 11 May and 12 May, hosted a wide variety of Latino leaders in business, tech, media and community outreach. Golden-Vazquez said the summit's goal was to "highlight to a wider audience how Latino issues are also issues for all of Americans and to the country as a whole."
"Given the changing demographics and the growth of the Latino community and the relative youth of the Latino communities, it's of critical importance that we highlight issues that are important to them in the nation as a whole for us to continue in our positive trajectory that we've been on in the country for so long," she added.
According to Golden-Vazquez, the programme is determined to encourage Latinos to take a more active role in their communities and is even raising scholarship funds to support Latinos attending workshops and summits like theirs.
Golden-Vazquez told IBTimes UK that it was critical for the programme to include a "wide range of Latino voices and faces and the different realities that we have" for its first annual summit.
Among one of the featured panellist was DREAMers RoadMap founder and CEO Sarahi Espinoza Salamanca. "We are delighted that Sarahi is going to be part of our programme," Golden-Vazquez said. "The reason she was chosen is because is an entrepreneur who has started an app that is helping solve a problem that people in our country are facing at this time."
DREAMers is a term coined to describe undocumented immigrants who fall under the executive order of President Barack Obama that grants deportation deferment and two-year work visas.
However, Golden-Vazquez emphasised that immigration is not the only issue of importance to Latinos. "Immigration is important to many in the Latino community, but it is not the sole issue and we are not a one issue community. Just like we don't have one culture, there's many different Latino cultures that some are Caribbean and some are from Central America and some from Mexico and so on. And we're not one race either. We come in all shapes, sizes and colours," she said.
Instead, the programme has decided to focus on three issues: educational opportunity, economic advancement and civic participation. Golden-Vazquez said civil participation was crucial "because we know we need to ensure that Latinos are advocating on behalf of themselves, are raising issues that are important to them, voting in ways that they can, for people who represent them and ultimately ensuring that Latinos are at the decision making table."
She added that younger generations of Latinos also need their voices heard "at the decision making table."