Millions of pilgrims have gathered in Iraq's holy city of Karbala to mark Arbaeen, a sacred Shia Muslim ritual. Arbaeen, also known as Chehlum, commemorates the end of the 40-day mourning period after the killing of Imam Hussein, the Prophet Muhammad's grandson, in a battle in 680 AD. His martyrdom is considered a defining event in the schism between Sunni and Shia Muslims.
Iraqi state-run media said more than 22 million pilgrims have visited Karbala, setting a record for the annual pilgrimage, though that figure could not be independently verified. Last year's Arbaeen drew 17 million pilgrims according to official sources. Arbaeen is the world's largest annual gathering, with the number of pilgrims far exceeding the two million visitors who descend on Mecca for the Hajj. The Kumbh Mela, a mass Hindu pilgrimage, attracts more pilgrims but is held only every three years.
Many made the pilgrimage on foot from Baghdad, a journey of 80km which can take days. Some walked from as far as Basra in southern Iraq, a journey of nearly 700km. Hundreds of thousands of pilgrims came from neighbouring Iran; a journey that takes about a month on foot. Although Arbaeen is a Shia ritual, some Sunni Muslims and people from other religions such as Christianity and Zoroastrianism also made the pilgrimage.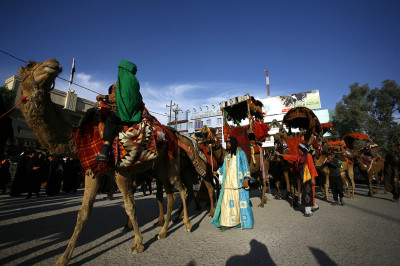 A special task force of Shia militiamen was deployed to provide extra security in Karbala and along the route of the pilgrimage. Iranian advisers are also helping to coordinate security. The processions of marchers have previously been a target for Sunni Islamist insurgents. Islamic State targets Iraq's Shia Muslims, viewing them as apostates deserving of death.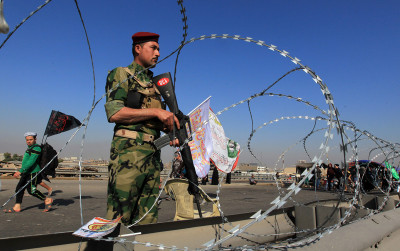 Pilgrims dressed in black gathered outside the golden-domed Imam Hussein shrine in an act of grief and mourning. Hussein's death entrenched the schism between Shia and Sunni Islam, which has sharply divided Iraq for years. The sectarian conflict gripping Iraq, mostly between the Sunni minority and the now dominant Shia, has been exacerbated by the rise of the ultra-hardline Sunni militant group IS (Daesh).