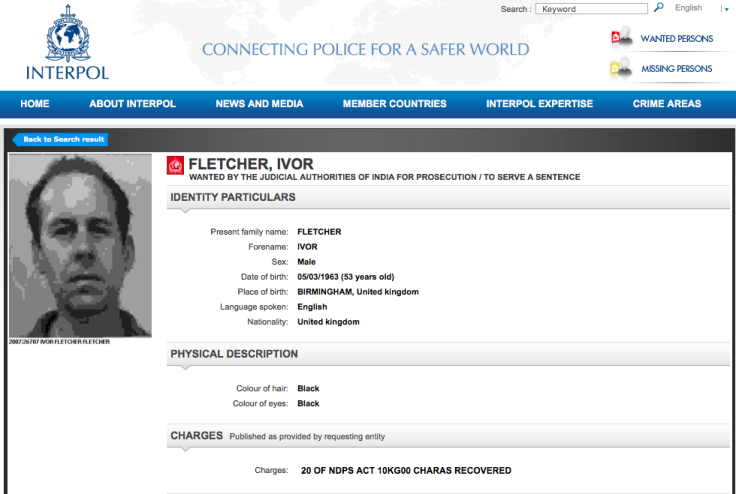 A Birmingham couple terrorised by their "neighbour from hell" were left stunned after they discovered that he is wanted by Interpol for alleged drug offences. Matthew Solly, 26, and his partner – who does not want to be named – were left disgruntled by police inaction at Ivor Fletcher's anti-social behaviour and decided to Google him, only to make a startling discovery.
Their search led them to find that 53-year-old Fletcher is wanted by authorities in India for possessing 10kg of cannabis. Solly, from Northfield, Birmingham, said that he and his partner were subjected to death threats, noise and vandalism.
"It's got beyond a joke now," said Solly. "We moved into the council property above him in February last year and he was really nice and friendly at the start. But then a couple of weeks before Christmas he started being funny.
"He started banging on our ceiling so the walls were shaking," he added. "Then he smashed our fence down and started threatening me when I was outside.
"One morning he got up first thing in the morning and started going up and down the drive again and again to wake us up. He makes life hell here.
"I called the police out, but they would just come and give him a warning and then leave.
"I called the council, but they've done nothing about him. I've even spoken to my MP, but I don't know if he's actually been in touch with the police."
Solly said that he is so fed up at his nightmare neighbour that he has decided to move house. He added that police "seemed a bit concerned" that Fletcher was not listed on their system and confirmed he was wanted by Interpol, but insisted that "because it's interpol they [police] are powerless to do anything about it."
A police spokesman said that "West Midlands Police is fully aware of this matter and is working within the national protocols to liaise with the Indian authorities in connection with the case." He added: "Given the complexities of these arrangements this can take some time."
An spokesman for the intergovernmental organisation aimed at facilitating international police cooperation said: "Interpol confirms that there is a valid public Red Notice for internationally wanted persons for Mr Ivor Fletcher."
The Interpol website says: "In the case of Red Notices, the persons concerned are wanted by national jurisdictions for prosecution or to serve a sentence based on an arrest warrant or court decision. Interpol's role is to assist the national police forces in identifying and locating these persons with a view to their arrest and extradition or similar lawful action."