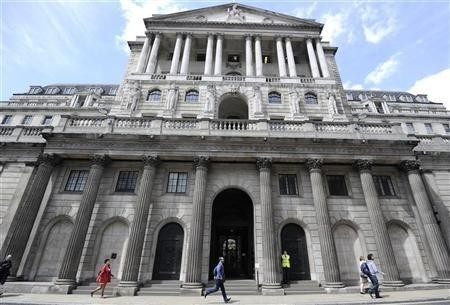 The Bank of England kept its key lending rate unchanged at a record low and made no changes to its asset purchase programme.
The key 'Bank Rate' remains at 0.5%, the lowest in the Bank's 300 year history, while its asset purchase programme remains unchanged at £375bn (€444.1bn, $584.3bn).
The Bank issued no statement following its decision but it does fall in line with analyst consensus that more policy stimulus from the Bank of England is unlikely, until the new central bank governor Mark Carney arrives in July.
Britain's economy narrowly avoided a triple-dip recession by growing by a stronger-than-expected 0.3% in the first three months of 2013.
Other industry surveys point to a solid start to the second quarter.
On Thursday, the Britain's industrial production confirmed the estimated increase used in last month's calculations for gross domestic product by increasing more-than-expected.
Inflation in Britain is running at 2.8% and has been above the central bank's 2% target for most of the past five years.
Britain's benchmark share index, the FTSE 100, steadied itself near five-and-a-half year peak, supported by central bank stimulus and solid corporate earnings.
The FTSE 100 has risen nearly 12% since the start of 2013.
Sterling also rose to a session high of $1.5589 versus the US dollar while UK government bond futures for June fell.