China's Naval Chief Says Smog is Best Defence Against US Laser Weapons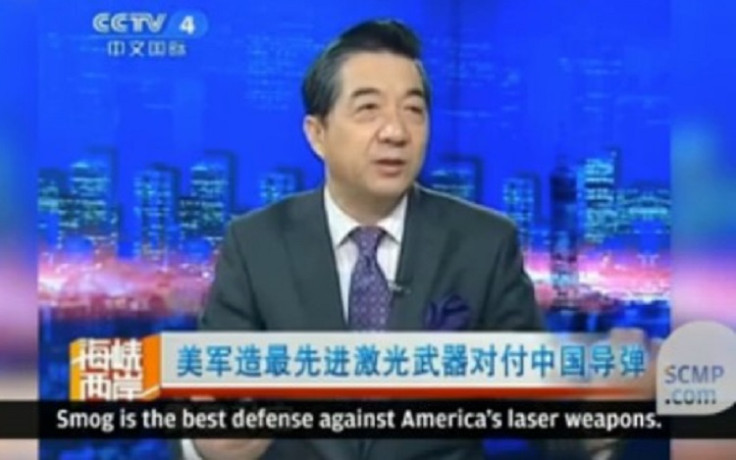 Thick smog is the best defence against US laser weapons, a Chinese military chief has declared on national television.
Zhang Zhaozhong, the Navy Major General for the People's Liberation Army drew massive criticism when he made the statement on CCTV's Haixia Liang'an (Cross-Straits) current affairs programme, adding that lasers were "most afraid of smog".
He said: "Under conditions where there is no smog, a laser weapon can fire [at a range of] 10 kilometres. When there's smog, it's only one kilometre. What's the point of making this kind of weapon?
"It only works when the weather is good. The enemy will target you when the weather is bad.
"Once your enemy knows your disadvantages you are dead. This is a laser weapons' fatal disadvantage."
Zhang explained that smog was made up of tiny metallic particulate, known as PM2.5, and the higher its concentration the harder it is for lasers to get through.
He was speaking after the US navy announced it was preparing to deploy its first laser weapon aboard transport ship, USS Ponce, which is aimed at protecting US forces in the Persian Gulf.
But thousands of people took to social media site Sina Weibo to criticise Zhang's comments.
In response the major general said his statements were taken out of context and led to "misunderstanding".
He told Beijing Youth Daily: "I just stated a laser weapon's weakness. I don't support smog."
According to the World Health Organisation the presence of tiny pollution particles should not exceed 25 micrograms per cubic metre. In Beijing levels were recorded at almost 400.
© Copyright IBTimes 2023. All rights reserved.