China's upcoming aircraft carrier is reportedly likely to be based near the hotly contested South China Sea which has been the source of tensions between Beijing and the US and its regional allies.
Local media reports suggested that the second aircraft carrier, which is thought to be China's first home-made one, may be based near the strategic international waterways in a bid to increase China's military capabilities as well as its readiness to deal with what the Chinese media calls "complicated situations".
The carrier is being built at the port of Dalian but China is yet to officially announce a home for it. The vessel is expected to be completed in the first half of this year and would officially join the navy in 2019.
It is likely to be named the Shandong after a province on the east coast, the South China Morning Post reported, citing Xiake Dao, a social media account affiliated with the oversees edition of the state-owned People's Daily.
"It [the carrier] will be used to tackle the complicated situations in the South China Sea," the newspaper said.
It added that "based on existing available information" the aircraft carrier base would be in a southern province.
Earlier on Tuesday (31 January), Reuters reported that the vessel was "taking shape" after almost three years of construction. However, it did not specify when it would be ready to sail the disputed waterways.
China's first aircraft carrier, the Liaoning, was bought from Ukraine in 1998 and was refitted on the mainland. It is based in the eastern city of Qingdao, a port in the north close to Japan and South Korea. It took part in drills ­carried out in the South China Sea in December, raising tensions with the US.
Beijing's rivals in the territorial dispute are growing increasingly wary of the country's aggressiveness. The US, Japan and Vietnam have voiced their anger over Chinese activity in the waters, on which China claims historical rights.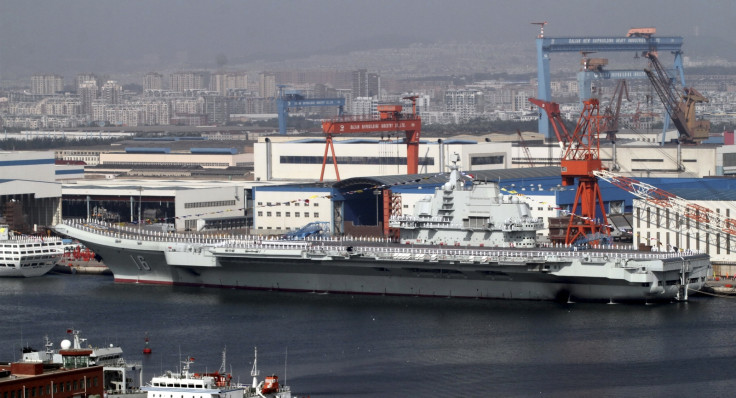 Analysts believe that the new carrier is also a signal to Taiwan, which China sees as its renegade province. Beijing thinks the island nation is trying to keep its options open on seeking formal independence from the mainland, especially since US President Donald Trump breached several years' diplomatic protocol by speaking to Taiwanese President Tsai Ing-wen.
With the confirmation of new US Secretary of State, Rex Tillerson, who has openly voiced his anti-China rhetoric and recommended blocking China's access to the South China Sea, tensions are expected to escalate.