Naturalist and broadcaster Sir David Attenborough is on board as patron of Jurassica, an £85 million prehistoric theme park in Dorset.
"My own love of science began with fossils, and this period and area are so very, very important in history and for Britain itself," Attenborough told the Sunday Times.
"The pity has been that this area has lacked a single focus and this is what Jurassica could do."
The Jurassica project is spearheaded by Michael Hanlon, a science journalist. Renzo Piano, who designed the Shard, has drawn sketches of the centre, with a domed glass-and-steel roof stretching 350ft across a disused quarry on the Isle of Portland, near Weymouth in Dorset.
The theme park's trustees are planning to open the attraction in 2019 and hope to attract 700,000 visitors a year. Costs are high, with Hanlon suggesting that the price for two adults and two children could cost up to £70.
"Jurassica would be the world's first carbon-negative large visitor attraction," Hanlon told the Western Daily Press.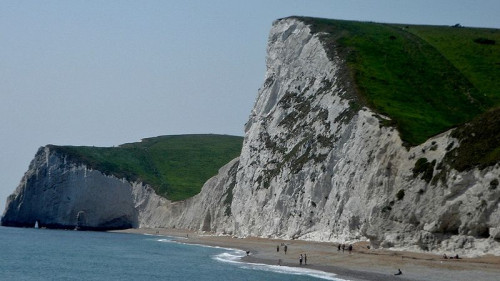 Michael Dixon, director of the Natural History Museum, has seen the Jurassica site and is keen to take an active part. "We will have some glass-cased objects, but we will also use the very latest technology, like animatronics, to make it a very exciting visit. "
Ideas include building aquatic tanks filled with animatronic models of prehistoric sea monsters. There are also schemes in which visitors would be taken back in time, 140 million years ago, on a journey "flying around the Earth".
Sir Tim Smit, the driving force behind the Eden Project in Cornwall, is a trustee and the engineering is being led by the team responsible for the Eden Project and the refurbishment of Sydney Opera House.
Jurassica is designated for a site in Yeolands Pit, a 120ft deep, 300ft wide hole at Broadcroft Quarry, which is one third the size of the Millennium Dome in London.
Britain's Jurassic Coast was designated a Unesco World Heritage site in 2001 and in a 2005 poll of Radio Times readers, the Jurassic Coast was named as the fifth-greatest natural wonder in Britain.
This area was home to Mary Anning, a palaeontologist who studied the fossils of the coastline around Lyme Regis and discovered the first complete Ichthyosaur fossil at the Spittles.
Attenborough, Britain's most celebrated natural historian, explores his love of fossils and dinosaurs in a 90-minute special film made by Sky and the Natural History Museum. It will be shown at 6.30pm on New Year's Day, on Sky 1 and Sky 3D in the UK. Watch the trailer below: