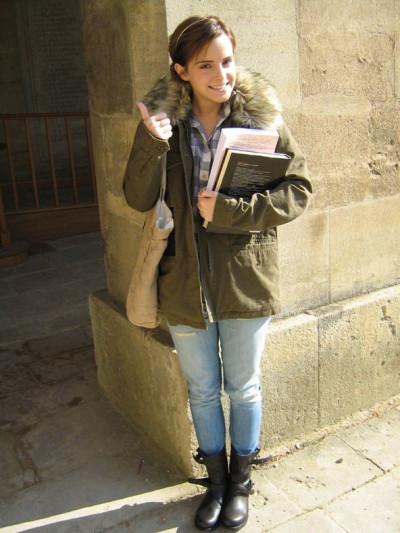 British actress Emma Watson is all set to start a new school year at Oxford. Clad in a pair of basic jeans, boots and an anorak, she clearly didn't want to assert her star status on her first day back in college.
The star of the "Harry Potter" series of films, believed to be worth approximately £24million, posted a picture of herself on her blog. She also wrote a message: "You might not hear from me for a while because I will be really busy studying but I wanted to just say hi and bye. To Everyone who is starting a New School Year, (sorry those who have been at school for a while Oxford starts late). Just to say have a great term and good luck with all your work."
The Burberry model had put her studies on hold at America's Brown University earlier this year to focus on her acting. She, however, asserted that she would return to Brown to complete her degree.
Watson has an impressive line-up of films set to release this year and in early 2012, starting with "My Week With Marilyn", which is due to release later this year and "The Perks Of Being A Wallflower", which should hit the screens in 2012. The "Harry Potter" star, who is also the face of Lancome, is on top of the world, right now.
According to Watson, her short hair makes her take risks with her styling.
"I think it's made me more bold, there's no way to hide when you have short hair. You really have to go for it and also, because I think it's quite boyish, you can kind of take it a bit further the other way. Be a bit sexier because it's kind of not too much, so that was cool. I've definitely been more experimental with colour and just a bit bolder," said Watson, to stylist.com
"Now it's fun to play around with different colours. Because I have short hair - I'm big into doing like, Twiggy mascara. So I'll do bottom lashes and top lashes. And because I'm so pale - I'm English - I have to wear blush or some kind of bronzer. I'm big into a cream blush," she continued.
Start the slideshow to view Watson's most gorgeous photographs.