African slaves cut open for their kidneys in Libya's burgeoning organ trafficking market
An undercover operation exposed Libya's slave market where desperate immigrants are sold as manual labourers.
[Update: This story has been updated to reflect the latest development.]
The investigation into Libya's seedy underbelly, where men and women are sold off to the highest bidder, has earned international condemnation, with demands for a swift investigation into the human rights atrocity. Now, a Ghanaian lawyer claims trafficking in the country is being used to facilitate the illegal sale of human organs and encourage a lucrative "red market".
In an interview with TV3's New Day, Bobby Banson said that he had viewed a number of videos of interviews with people who found themselves trapped into slavery with at least one person revealing he was aware that body parts of others were being harvested.
"One of the persons I heard, said the truth is that they are not sold to go and work, but their human parts are harvested... kidney, liver are in high demand in these areas," Banson said according to Ghana Web.
"They are put on some [drugs] and their parts are harvested and resold. So that is actually what is happening, and that is a crime against humanity," he added, urging the African Union (AU) to set up an ad-hoc court to investigate the matter.
The AU has also called for action to protect helpless migrants and bring their smugglers-turned-slave masters to justice. Additionally, Libyan Deputy Prime Minister Ahmed Metig confirmed that his UN-backed Government of National Accord (GNA) would investigate the allegations after UN Secretary General Antonio Guterres said that these "most egregious abuses of human rights" must be stopped immediately.
These strong reactions were in response to a recent investigation by CNN into the slave market in Libya where men are auctioned off as labourers for as little as £300 ($400). The report uncovered a network of slave sellers who took advantage of desperate immigrants who were stuck in Libya as they waited for ways to cross the Mediterranean Sea and enter Europe.
Former Nigerian Aviation Minister Femi Fani-Kayode has been extremely vocal in his condemnation of the brutal treatment of these migrants. He recently shared a photo on Twitter of "African slaves who's organs have been removed and sold".
IBTimes UK has not been able to confirm if the image is authentic, but one of the many images shared by Femi in the past were confirmed as not being part of the Libyan slave trade.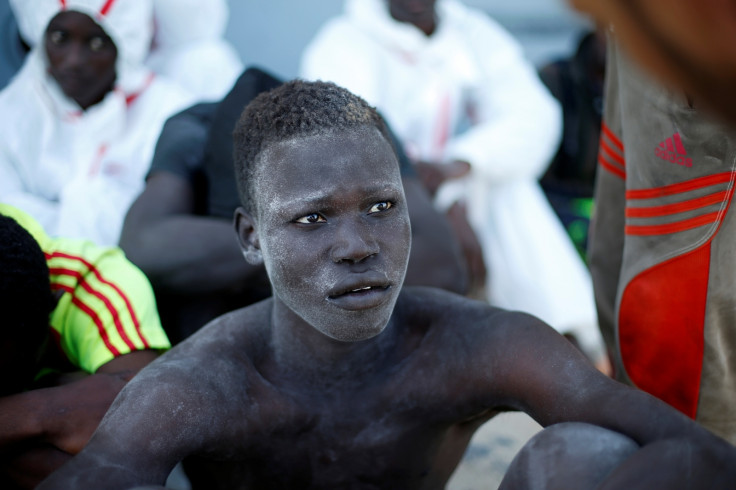 With a number of African countries suffering from widespread poverty, human organ harvesting is becoming a thriving business with customers from all around the world.
According to a recent Interpol report, in Nigeria, top-ranking politicians and diplomats may have a hand in the illicit business of human trafficking and organ sales. The French police report, which revealed that a single human lung sells for as much as $10,000 to $20,000, described how in some cases, unsuspecting victims were offered help to enter other countries where their organs are harvested.
"It is a very lucrative trade that involves not only kidneys," explained an intelligence officer in the country who was privy to the report.
The National Agency for The Prohibition of Trafficking in Persons (NAPTIP) plans to kick-start an investigation of its own to identify parties involved in the operations. "In recent months we have raised the issue of illegal harvesting of organs as a new dimension in human trafficking. Organ harvesting has been tied to human trafficking and has become a booming business in the 21st C on a global scale," Director General of the Agency, Dame Julie Okah Donli said in November.
"Some victims are informed that their organs will be taken for a fee and they will also be taken care of, but as soon as the organs are taken, the victims are sutured back and the money promised not given, while the victim is left to die if they decide to take every organ," she continued.