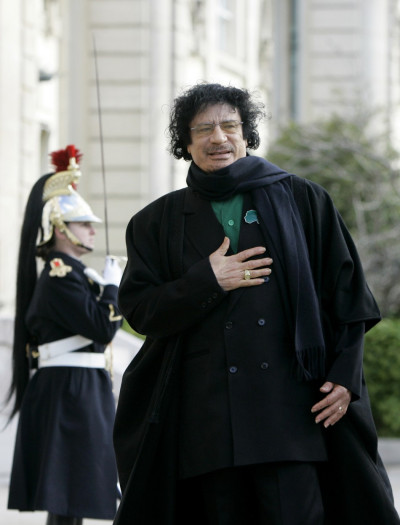 Col. Moammar Gadhafi's wardrobe, filled as it was with ornate military uniforms, Miami Vice-style leisure suits, and Bedouin robes, was always in the spotlight wherever he went. The recently killed tyrant also had a fetish for decorating his outfits with garish pins or necklaces typical of Africa. His ruthless rule of Libya aside, he is credited with bringing color and panache to drab international meetings and conferences.
The former dictator made more fashion faux pas than the Middle East has had wars since the beginning of time -- something that may account for him being a regular presence on the lists of worst-dressed public figures from across the world.
Gadhafi's garish wardrobe also marked him as a rather vain person. For an aging ruler, he was obsessed with his looks. In March, a Brazilian plastic surgeon came forward with an account of a four-hour cosmetic procedure he had performed on Gadhafi in 1995.
"He told me that he had been in power for 25 years at that time, and that he did not want the young people of his nation to see him as an old man," Dr. Liacyr Ribeiro said in an Associated Press report, "I recommended a facelift, but he refused."
Apparently, Gadhafi received hair plugs and had fat from his belly injected into his face to counteract the appearance of aging.
Start the slideshow to view the top fashion moments of the former emperor.