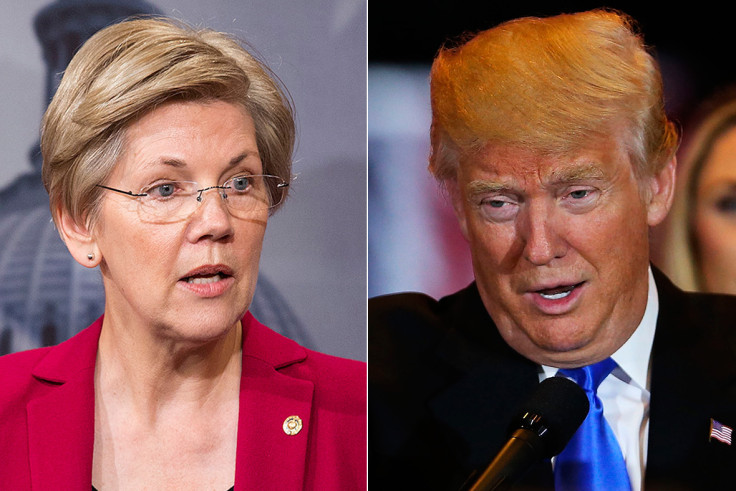 Democrat senator Elizabeth Warren appears to have buried her long-running feud with Republican Donald Trump, suggesting they could work together on some issues.
The pair clashed throughout the election campaign, with Trump taking several personal swipes at Warren, mocking her Native American heritage and referring to her as 'Pocahontas'.
For her part, Warren, following her party line, backing Clinton heavily – and was at one point rumoured to be under consideration for her VP pick.
She also hit out at Trump on social media, suggesting he was unfit to be president, and following the release of footage of Trump making lewd comments about women, Warren contacting supporters in an email entitled "women will stop Trump".
The email, seen by Politico, also slammed Trump's conservative VP running mate Mike Pence, stating: "Please do what you can to help our Democratic women take back the Senate and stop Donald Trump and Mike Pence."
However, Warren suggested during a speech to the the executive council of the AFL-CIO that she would work with Trump if he promised to tackle issues including the economy, The Washington Post reported.
"He spoke to the very real sense of millions of Americans that their government and their economy has abandoned them," Warren said. "And he promised to rebuild our economy for working people."
"I will push aside our differences, and I will work with him to accomplish that goal," she told the crowd.
"I offer to work as hard as I can and to pull as many people as I can into this effort. If Trump is ready to go on rebuilding economic security for millions of Americans, so am I and so are a lot of other people — Democrats and Republicans."
But Warren also warned that she was ready to fight if necessary, and would push back against Trump on issues that involved discrimination.
"There is no compromise here," Warren explained.
"In all its forms, we will fight back against attacks on Latinos, African Americans, women, Muslims, immigrants, disabled Americans — on anyone.
"Whether Donald Trump sits in a glass tower or sits in the White House, we will not give an inch on this, not now, not ever."