Iraq: Hundreds of thousands of Shiite Muqtada al-Sadr supporters protest corruption in Baghdad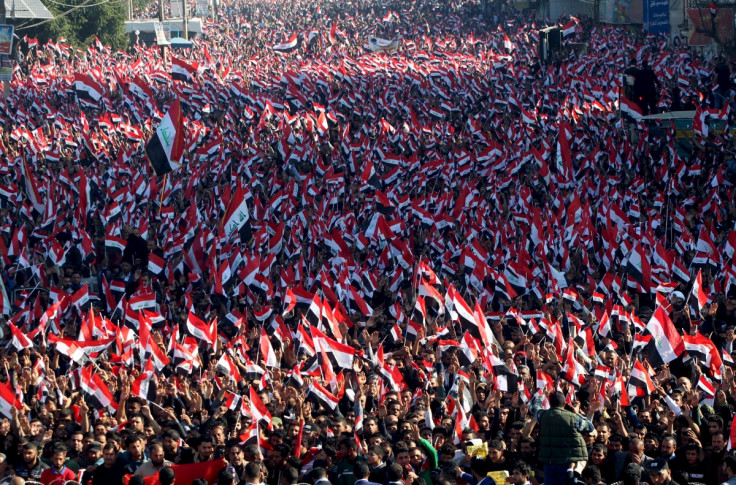 Hundreds of thousands of Shiite Muslims, supporters of the influential cleric Muqtada al-Sadr, have taken to the streets of Baghdad to protest corruption in the government of Iraqi Prime Minister Haider al-Abadi.
The partisan Kurdish news agency Rudaw has claimed up to a million Sadarists took up the call for anti-corruption protests, however estimated numbers from Arabic language media outlets have been lower.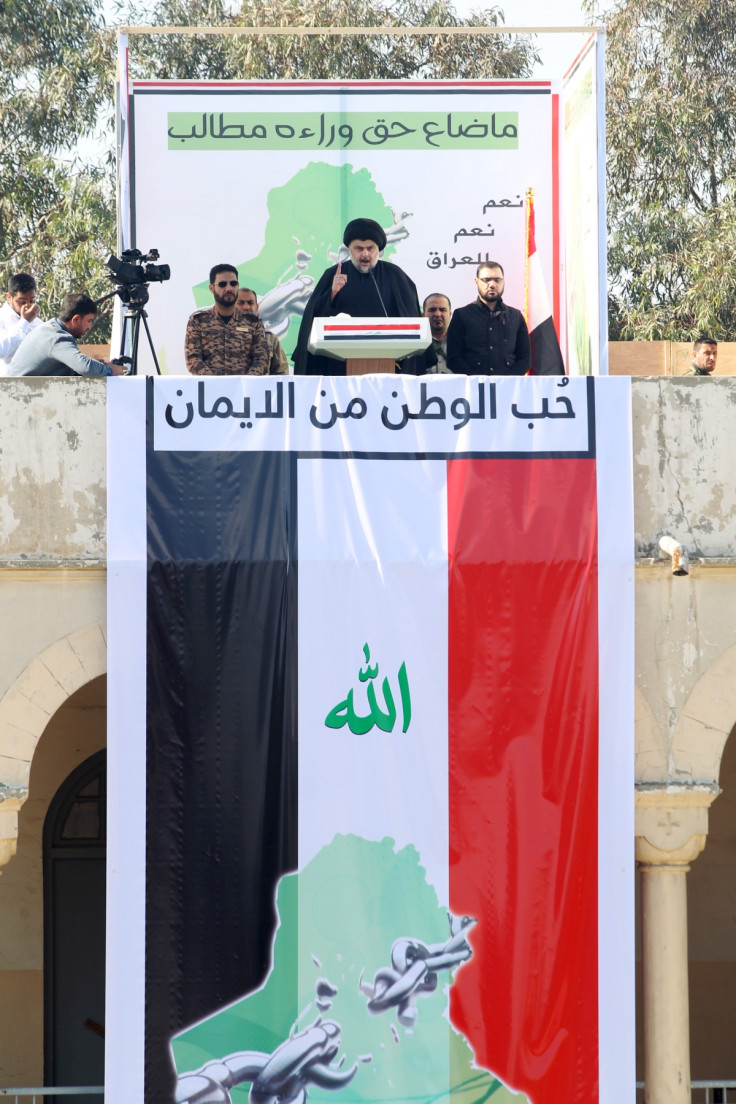 Iraq Prominent Iraqi Shiite cleric Muqtada al-Sadr (C) speaks during a protest against corruption at Tahrir Square in Baghdad
Reuters
The demonstrations, which began following Friday (26 February) prayers in the Iraqi capital, came in response an ultimatum given by Sadr to the Abadi government in January, demanding the implementation of reforms promised in summer 2015.
Protesters in Baghdad's Tahrir Square shouted slogans of "no to corruption and the corrupt" and speaking on stage Sadr told the masses they should be prepared to continue their protest movement. He spoke from a stage emblazoned with the Iraqi flag, flanked by members of his paramilitary organisation Saraya al-Salam.
"Abadi must carry out grassroots reform," Sadr said. "Raise your voice and shout so the corrupt get scared of you," he added.
Sadr also sought to strike a less sectarian tone. He said the failures of the previous government, headed by Nouri al-Maliki, had led to the fall of Mosul to the Islamic State and caused the suffering of the country's Sunnis.
However, included in Sadr's list of demands to the government is absorption of powerful Shiite militias, including his own, into the Iraqi army. Implicit in the holding of the demonstration on the edge of Baghdad's green zone was the threat the hugely popular cleric, who holds no official government post himself, could unleash his supporters on the capital's institutions and the country's parliament.
Al-Sadr, who rose to prominence during the US war in Iraq, has capitalised on Shiite fears over the expansion of the Islamic State (IS), a Sunni extremist group, in Iraq and neighbouring Syria. His Saraya al-Salam brigade were established following the IS capture of Mosul in 2014.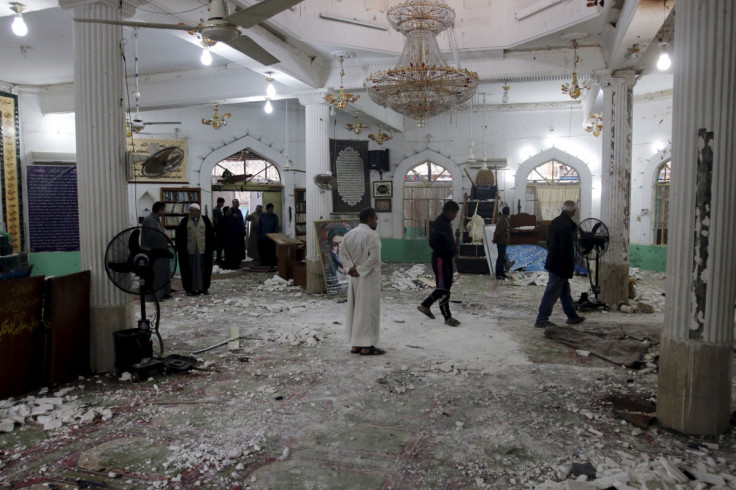 Iraq's Shiite community in Baghdad has borne the brunt of recent IS (Daesh) violence in the country. At least 15 people were killed in twin suicide bomb attacks, claimed by Isis on a Shia mosque in the Iraqi capital of Baghdad.
Reuters reported another 50 people were injured in the explosions, citing police and medical sources. The attack was carried out in Baghdad's Shulaa district, a predominantly Shia area of the city.
In January IS killed 51 in one day in three separate bomb attacks across Iraq. One of the IS assaults targeted Baghdad's predominately Shia al-Jadid district, where least 18 people were killed and 50 injured.
© Copyright IBTimes 2023. All rights reserved.