Isis warlord Abu Bakr al-Baghdadi abandons desert mansion complete with swimming pool and zoo
The missing Isis chief is believed to have abandoned the mansion in embattled Manbij, Syria
A desert mansion believed to have belonged to Islamic State (Isis) leader Abu Bakr al-Baghdadi has been found abandoned in the embattled city of Manbij, northern Syria. The discovery of the sprawling compound will fuel rumours that the Muslim cleric is in fact on-the-run and not dead – contrary to recent reports that he had been killed.
The desert hideaway was discovered in the city Manbij, Syria, then posted online by Iraqi rebel fighter called Serdar Mahmud. The city has seen battles between US-backed Syrian forces and Kurdish Peshmerga soldiers with Isis (Daesh) jihadists.
Reports suggest that IS fighters have been fleeing the city as troops attempt to liberate the strategic city from the extremists. Photos of the mansion show a drained swimming pool and a zoo boasting camels and horses.
Mahmud, who appears to be loyal to the Kurdish People's Protection Unit, posted a picture of himself on the roof of the mansion to micro-blogging social media site, Twitter, along with the caption: "note the camels and a few horse... Al Baghdadi had a zoo." He adds that he believes al-Baghdadi is in the Iraqi city of Mosul.
The mansion was seized by YPG fighters and also showed escape tunnels that would have been presumably used by the owner to escape. IBTimes UK was unable to independently verify who owned the mansion in Manbij.
On 14 June, reports emerged that the 44-year-old may have been killed in a US air strike. A statement shared on social media said al-Baghdadi died of wounds sustained in US air strikes on Sunday 12 June - the fifth day of Ramadan.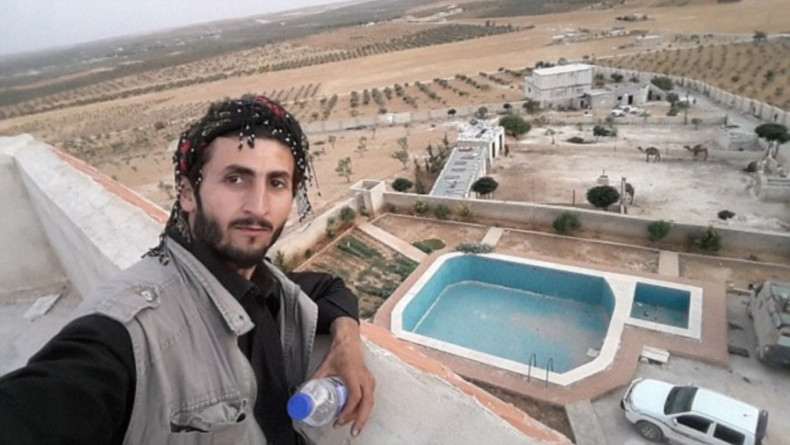 In May 2015, reports emerged that al-Baghdadi had suffered a serious spinal injury that meant he would never again be able to lead the terrorists again.
The elusive al-Baghdadi, who has an unprecedented $10m (£6.7m) bounty on his head, placed by Washington, was born as Ibrahim Awwad Ibrahim al-Badri, in Samarra, Iraq, to a middle class Sunni family. Al-Baghdadi, who rose to prominence as IS leader in 2013 has been accused of the multiple rapes of women, as well as fostering a culture of sexual slavery amongst its fighters.
The former university professor, who holds a PhD in Islamic studies and was a professor, is said to have had three wives, with one reportedly escaping IS.