Junior doctors' strike: Jeremy Hunt has left us with two options: quit, or strike. What would you do?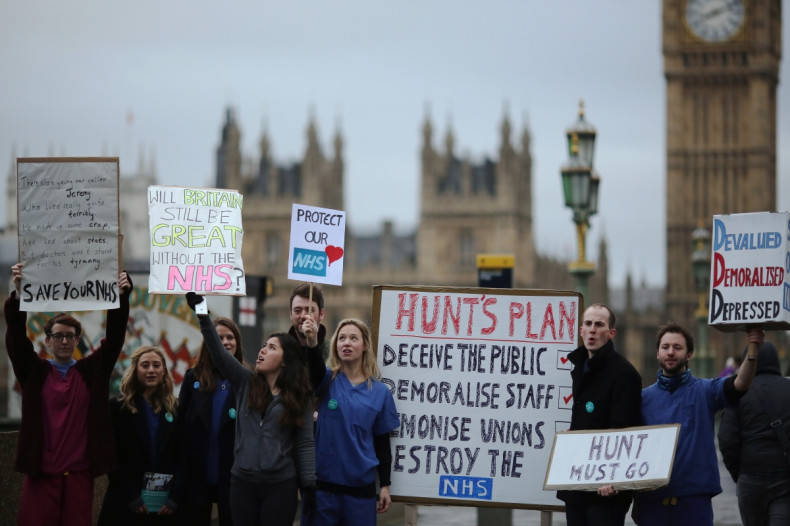 I love my job. I enjoy going to work, I enjoy helping people and I enjoy continuously trying to better myself in what I do. I decided to do this job not because of the status that is supposed to come with it, the massive salaries we supposedly earn, or indeed the luxurious lifestyle people seem to think we have, I do it because when I go to sleep at night I know I've made a difference that day.
I might have helped to save someone's life, I might have made that blood test a little less painful, or I might have helped a grieving family pick up the pieces and carry on with life. It's a stressful job every single day but I love the positive difference I can make. Given the satisfaction I get, I am usually immune to the cuts and demoralisation the government hits the junior doctors with... but we've hit a new low.
I finished medical school seven and a half years ago and since the day I graduated doctors have been pushed further and further into the ground. We are a caring bunch by nature and in the past we have just accepted what's been thrown at us because of that love for our jobs.
We skip food, break our knees, bust our backs, drink less than our dehydrated patients, have unsettled nights, miss weddings, funerals, birthdays, children's school events, and we cry. Yes we actually cry at work, at home, during the night. It's a stressful job, and of course I knew what I was letting myself in for, but at the moment I feel worthless – why do I put myself through this?
You'd leave your job, or at least challenge things if you felt worthless, right? If I left my job that's it... no more being a doctor, no more GMC licence, no more UK. I'd either go into management elsewhere or I'd move abroad. But I don't want to go into management, and I don't want to leave the UK.
So here we are, hearts broken, standing outside the Houses of Parliament. I don't want to strike, but we're being made to feel like we are worthless and we're being taken advantage of. Who cares that women will be discriminated against, that we'll work longer hours, more weekends, be understaffed, and that part-time workers will also be disadvantaged?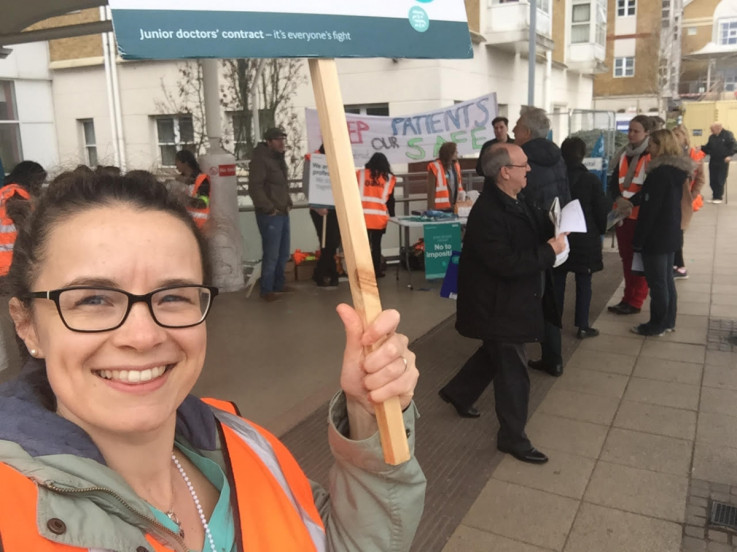 "The sad reality is that we have to walk out of care to make government realise what they are losing and listen to us."
Who cares that doctors are wholeheartedly miserable every day at work at the moment? That's why doctors are leaving their beloved profession. Do you think this government will listen to us by tweeting or writing to Jeremy Hunt begging him to talk to us? Do you think this contract will change if we continue to provide normal care whilst striking?
The sad reality is that we have to fully walk out of care to make the government realise what they are losing and listen to us. It would have been better for everyone if they would just listen to us without this disruption. But they do not realise what we do and they do not care what this contract will do to us and our patients. Jeremy Hunt has already said he will impose his contract no matter what. So I ask, what would you do?
To those who presume we think we're above working weekends – most of us already work weekends, as well as regular 13-hour shifts through the night. And to those who assume we became doctors for the money, please consider that there are more lucrative professions which require much less training.
I studied for six years to become a junior doctor, and still have a huge debt. There are also many lucrative careers which don't include facing the anguish of a family's grief. Sickness is a part of life, as is both recovery and grief. We hope to make every process as painless as possible.
I've cried in exasperation at our situation. We should be proud to live in a country which offers free healthcare, not punishing those who work to provide it. Our duty is "First do no harm", but there is harm being done to us. And if this contract goes ahead, that will mean unsuitable care for our patients. That is exactly what we're fighting for.
---
Rachel Carnall is a Paediatric Registrar in north London
---