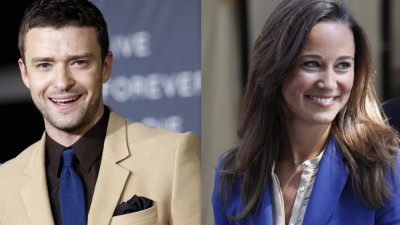 Justin Timberlake has revealed he has a huge crush on the beautiful Pippa Middleton. Timberlake spoke about his crush during an interview with Esquire magazine.
"Us American males are big fans of Pippa. We like the Middletons very much. I'm going to sound like a sleazeball. I'm going to stop right there!" said the singer, who has also acted in films.
Timberlake also confessed that after movies like "Bad Teacher" and "Friends With Benefits," people were beginning to believe that he was taking acting a bit too seriously.
"People have made me feel I'm trying to be a serious actor, which is hilarious. I'm not trying to be a serious actor. I just want to do a good job," he explained, "There were times I was motivated but the fact [was] I wanted to be the biggest music star in the world."
"Maybe it wasn't a conscious thought, but it was an underlying theme. I've spent a lot of time feeling like I needed to validate so much of who I was by what I did. After I turned 30 I started asking myself questions why. The only validation I crave now is to be inspired in the same way I've always been," said Timberlake.
Start the sideshow to check out pictures of Pippa and Timberlake.