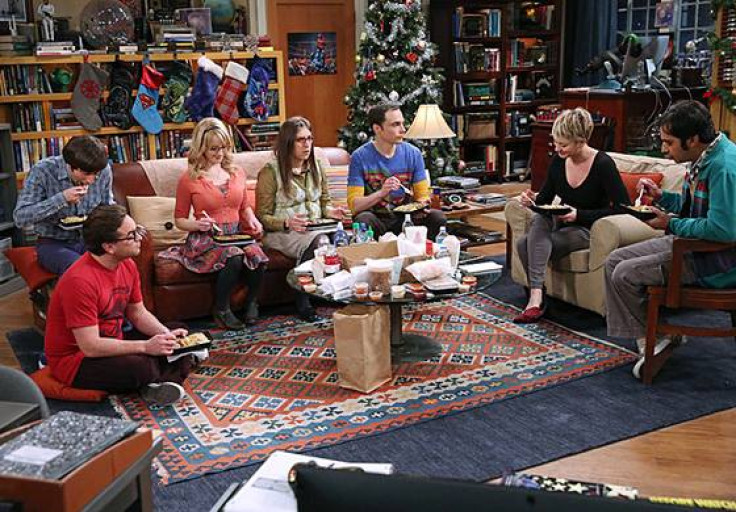 Actress Kaley Cuoco has revealed the first look of Sheldon Cooper, Leonard Hofstadter, Amy Farrah Fowler, Penny, Rajesh Koothrappali, Bernadette Rostenkowski and Howard Wolowitz from The Big Bang Theory season 10 sets.
Cuoco posted an image on Instagram with all her co-actors making shocked or happy faces. The actress captioned the picture: "#season10 woot woot!@thebigbangtheory__ we back babyyyyy #selfiestick#backstagepass." Cuoco plays Penny on the CBS show.
The 10th season of the CBS sitcom will pick up from season 9's cliffhanger involving Sheldon's mother, Mary Cooper, and Leonard's father, Alfred Hofstadter, sharing an evening together, as everyone deals with an awkward morning the following day.
Besides, Penny's family arrives for Leonard and Penny's re-wedding ceremony, as the premiere episode will introduce fans to Penny's anxiety-ridden mother, Susan (played by Katey Sagal), and her drug dealing brother, Randall (played by Jack McBrayer). Showrunner Steve Molaro said, "We are finally going to meet more of Penny's family. We're going to be meeting Penny's mom and her brother in the first episode back. We're super excited that Katey Sagal will be playing Penny's mom."
Speaking of McBrayer's character, Molaro said, "He's a drug dealer and he has just gotten out of prison. We needed to find the right person to get for this. I think we did a pretty good job on the casting. He's a little scary."
Season 10 of The Big Bang Theory will also feature Dean Norris in a multiple-episode arc. The Breaking Bad actor will play Captain Williams, a tough Air Force representative from the Department of Material Command, who will be interested in Howard and Leonard's quantum gyroscope for military applications.
The Big Bang Theory season 10 returns on CBS network on Monday (19 September) at 8pm EST.