Kim Jong-un's regime publicly executed 11 musicians accused of making a pornographic video by strapping them to the barrels of anti-aircraft guns and blowing them to pieces, a North Korean defector has claimed.
Hee Yeon Lim, whose late father was a senior officer in the country, said the musicians' body parts were then run over by tanks "to smash them into the ground until there was nothing left".
The 25-year-old defector said 10,000 people were forced to watch the gruesome spectacle as it unfolded in a sports ground at the Military Academy in Pyongyang, not long after Kim Jong-un took over as supreme leader following his father's death in 2011.
Hee Yeon, who fled to South Korea following her father's death, made the shocking claims during an interview with the Daily Mirror.
"We were ordered to leave our classes by security men and made to travel to the Military Academy in Pyongyang," Hee Yeon said, speaking under a pseudonym due to fears for her safety.
"There is a sports ground there, a kind of stadium. The musicians were brought out, tied up, hooded and apparently gagged, so they could not make a noise, not beg for mercy or even scream.
"What I saw that day made me sick in my stomach. They were lashed to the end of anti-aircraft guns.
"There were around 10,000 people ordered to watch that day and I was standing 200 feet from these victims. A gun was fired, the noise was deafening, absolutely terrifying, and the guns were fired one after the other.
"The musicians just disappeared each time the guns were fired into them. Their bodies were blown to bits, totally destroyed, blood and bits flying everywhere.
"And then after that, military tanks moved in and they ran over the bits on the ground where the remains lay. The tracks of the tanks were run over the remains and blood repeatedly, over and over again and made to grind the remains, to smash them into the ground until there was nothing left.
"I felt desperately ill from witnessing this. It was so horrible and I could not eat for three days as it made my stomach churn."
The unverified claims have stark similarities to reports that emerged in 2013 of the alleged execution of performers from North Korea's Unhasu Orchestra, of which Kim's wife, Ri Sol-ju, was a member.
Japan's Asahi Shimbun newspaper claimed at the time that members of that group and the Wangjaesan Art Troupe were executed after being suspected of making a pornographic video. The executions were said to have been carried out because Kim feared his wife's reputation might be damaged.
At around the same time, South Korea's Chosun Ilbo magazine also reported the execution of a dozen musicians, saying this included Kim's ex-lover and singer Hyon Song-wol.
The reports prompted outcry from Pyongyang's state news agency KCNA, which accused media in South Korea of printing false and malicious reports.
Hyon Song-wol subsequently appeared on television in 2014 alive and well, Agence France-Presse reported.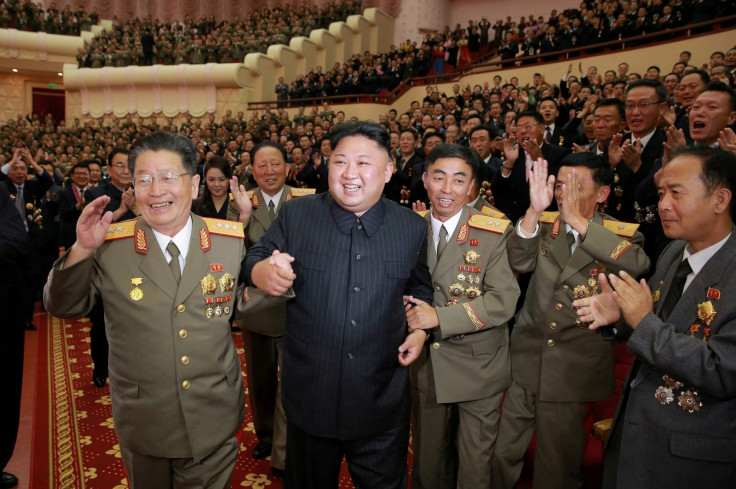 While a 2014 UN Commission of Inquiry found that human rights abuses – including extermination, murder, enslavement and torture – are rampant in North Korea, independent experts have warned false stories about life in the country are also rife.
This is said to include deliberate misinformation planted by North Korea's enemies and intelligence services. The regime's notorious closed society makes it near-impossible for journalists to verify the claims.
But this is not the first time reports have emerged of executions in North Korea being carried out with anti-aircraft guns.
In 2015, satellite images emerged purporting to show the imminent public execution of a group of people with six Russian-made ZPU-4 anti-aircraft guns.
Released by the Committee of Human Rights in North Korea, the pictures were taken in October, 2014, from above the Kanggon Military Training Area, some 15 miles north of Pyongyang.
The ZPU-4 anti-aircraft guns – consisting of four 14.5mm heavy machine guns mounted on a towed wheeled chassis – are pointed downrange at what appears to be a group of human targets, the Committee said.
Other defectors have also spoken of the terrible conditions suffered under the regime in North Korea, including one who told IBTimes UK of how he fled the country facing starvation.
In her recent interview, defector Hee Yeon, who was reportedly only just released from three months in detention by South Korean authorities, also spoke of how Kim Jong-un takes teenage sex slaves and eats £1,000 a-time lunches as much of the country wallows in poverty.
Speaking from Seoul, she told of how she enjoyed a life of privilege growing up in Pyongyang due to the seniority of her late father, Colonel Wui Yeon Lim.
"Despite our privilege we were scared. I saw terrible things in Pyongyang," she said. She fled with her mother and younger brother following her father's death.
Her claims come as international pressure mounts against Kim's regime following its refusal to stop nuclear and missile tests.
On Tuesday (20 September), US President Donald Trump vowed to "totally destroy" the country if it did not relinquish its nuclear ambitions.