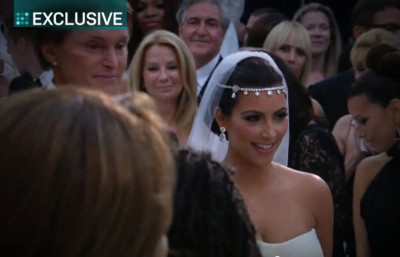 American socialite and reality television star Kim Kardashian's much-publicized wedding has only lasted 72 days. Such has been the furor caused by all of these rumors and drama, staged by the Kardashian family, that it is being suggested Kardashian, in fact, stands to gain substantially.
From the beginning of her "fairytale" wedding to her impending divorce, Kardashian seems to have had a singular motive - to allow her vast "fan-base" to see that there is much more to come for and from the American audiences.
According to reports, Kardashian got her three Vera Wang designer wedding gowns worth $20,000 and Perrier Jouet Champagne for $400,000 free. In addition, her 10tier $15,000 chocolate-chip icing weddning cake, from Hansen's Bakery, had a hefty discount.
Furthermore, the $1 million wedding bands and $2 million engagement ring both came with heavy discounts, thanks to Lorraine Schwartz. Finally, Kardashian was paid $50,000 by Tao in Las Vegas for her pre-wedding bachelorette party bash. Even her wedding invitations, from Lehr & Black, worth around $10,000 were free. All in all, the wedding is estimated to have cost a little over $20 million with most of the vendors bearing the cost or paid for by media houses who made a beeline for acquiring the rights to the wedding.
Twenty-four hours after news broke of the forthcoming divorce, the reality star took to her official blog to defend her marriage.
"First and foremost, I married for love," she wrote in a message to her supporters, "I can't believe I even have to defend this. I would not have spent so much time on something just for a TV show!" While she says she had "pure" intentions, she admits that she may have "rushed in to something too soon."
"I felt like I was on a fast roller coaster and couldn't get off when now I know I probably should have," Kardashian explained in the same blog entry, "I got caught up with the hoopla and the filming of the TV show that when I probably should have ended my relationship."
However, the rest of the world seems to think otherwise.
"The whole wedding was a total hoax and a publicity stunt," an insider revealed to Radar Online in an exclusive interview, "It was great for ratings and it was an amazing money maker. That's it though, period."
The source also adds that it's not a long shot for the tumultuous couple to stage another publicity stunt by getting back together.
"It wouldn't surprise me, in the slightest, if Kim and Kris managed to 'reunite' and the divorce filing gets brushed aside as they go to counseling and couples therapy."
Now, with rumors surfacing that she had a lunch date with ex-boyfriend before staging her divorce, it looks like Kardashian has another man in the storyline already.
Is she looking to make some more money out of this divorce as well? Food for thought indeed.