12:00: Europa League Group Stage Draw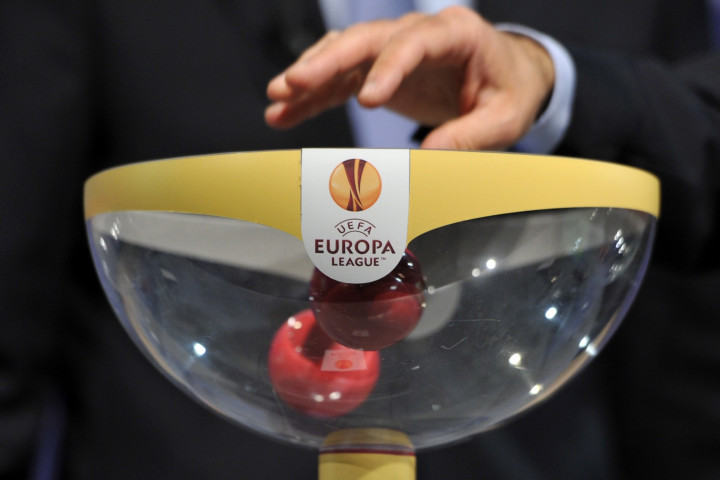 12:46: Fixtures for each of the group stage matches are still to be confirmed but the first games will be played on Thursday 18 September across six seperate match days until 11 December.
Well that's all we've got time following the Europa League draw. All three British sides will be eyeing a route into the Europa League knock-out phase after this afternoon's draw. Until next time, goodbye.

12:43: Well that concludes the draw and how have the British club faired? Well Tottenham have landed perhaps the best team from pot two in Besiktas, who were only narrowly defeated by Arsenal in the Champions League play-offs. A trip to Belgrade to face Partizan hardly sounds appealing either for Mauricio Pochettino's men.
Everton have been given a baptisim of fire on their return to European competition, with Lille, Wolfsburg and a visit to southern Russia to face Krasnodar on the agenda. Food for thought for Roberto Martinez.
Finally, Celtic will be content with their group which includes FC Salzburg, Dinamo Zagreb and debutants Astana from Portugal.

12:18: Here we go then, the first ball is about to be drawn. The groups will be updates as the draw unfolds.
Group A: Villarreal, Borussia Monchengladbach, FC Zurich, Limassol
Group B: FC Copenhagen, Club Brugge, Torino, Helsinki
Group C: Tottenham Hotspur, Besiktas, Partizan Belgrade, Tripolis

Group D: FC Salzburg, Celtic, Dinamo Zagreb, Astana
Group E: PSV Eindhoven, Panithianikos, Estoril, Dynamo Moscow

Group F: Inter Milan, Dnipro, St-Etienne, Qarabag

Group G: Sevilla, Standard Liege, Feyenoord, Rijeka

Group H: Lille, Wolfsburg, Everton, Krasnodar

Group I: Napoli, Sparta Prague, Young Boys, Slovan Bratislava

Group J: Dynamo Kiev, Steaua Bucharest, Rio Ave, Aalborg

Group K: Fiorentina, PAOK, Guingamp, Dinamo Minsk

Group L: Metalist Kharkiv, Trabzonspor, Legia Warsaw, Lokeren

12:17: Marchetti is now describing the tins and outs of today's draw, which includes confirms that there will be two kick-off times across the group stage. Otherwise, it's as you were. A larger version of the Champions League draw, if you will.

12:14: This year's final will be played at Warsaw's Stadion Narodowy, which sees Poland host a major club final for the first time in their history. Who better to named the final ambassador (because Uefa insist on having them) than former Liverpool goalkeeper Jerzy Dudek. We're getting closer.

12:10: Uefa general secretary Gianni Infantino comes to the stage now, the sort of many I would trust to read my children a bedtime story and put them to bed. Very reliable but with the sort of voice that would send you straight to sleep. He is now explaining the format for the draw, which I've already done for you. So that's 1-0 to me.

12:08: Youri Djorkaeff comes to the stage and is billed as 'the snake' by one of the Uefa presenters. He will have loved that. The Frenchman won the Uefa Cup and the World Cup in the same year in 1998, but we're about to hear about it all over again. Djorkaeff's former side Inter Milan are among the first teams to be drawn here.

12:05: Uefa are giving us a review of the best bits from last year's competition which of course saw Sevilla prevail on penalties in the final against Benfica. In a moment we will have the draw. With 12 groups to cover, I will leave each group on the screen to avoid any unnecessary scrolling.
12:01: We're not far away from the big moment in Monaco. You can follow the draw via a live stream on uefa's official website here or remain with me for a move sarcastic view. I know which one I am choosing.

11:50: So what represents the best and worst case scenario for our three British clubs then? I've done some thorough(ish) research and come up with what each will wil be hoping for and secretly dreading.

Celtic

Best scenario: FC Copenhagen, Rio Ave, Astana

Worst scenario: Sevilla, Legia Warsaw, Dynamo Moscow

Everton

Best scenario: FC Copenhagen, Trabzonspor, Astana

Worst scenario: Sevilla, Besiktas, Dynamo Moscow

Tottenham Hotspur

Best scenario: Trabzonspor, Rio Ave, Astana

Worst scenario: Besiktas, Feyenoord, Dynamo Moscow

11:39: If the faffing at yesterday's Champions League draw and at previous draws are anything to go by we could be in for a long afternoon in Monaco, which so happens to be the only destination they could host the back-to-back draws, on separate days. Am reliably informed that it is a sweat-inducing 26 degrees down in the principality. I am sure that is just a coincidence and that Uefa's bigwigs are knuckling down to some hard work.
11:31: The 2014/15 Europa League is the first in which the eventual winner will be rewarded with a place in next season's Champions League. Though that change might not represent a carrot at this stage of the competition, it could yet alter the ethos of some teams later in the competition.
If you ask me, which you haven't, it dilutes a competition which requires dramatic streamlining rather than unnecessary pandering. Uefa have undermined their own competition but admitting it to be the poor relation of the Champions League, rather than a tournament to run alongside it. Shutting it down at this stage might just be kinder.
11:25: So what of our British trio? Well Everton qualified automatically for the group stage virtue of their fifth place finish in the Premier League, but it's not been exactly smooth sailing for Tottenham and Celtic. Spurs fell behind to AEL Limassol in the first leg before scoring five unanswered goals to progress over two legs, while Celtic - after being reinstated into the Champions League - have dropped into the Europa League after losing to Maribor.
Tottenham start the draw in pot one, with Celtic and Everton in pots two and three respectively. Remember, the two Premier League sides can't draw each other but either club would face Celtic in the group phase. To add some extra fuel to proceedings, Celtic could even draw Legia Warsaw - the team who continue to scream injustice over their elimination from the Champions League after fielding an ineligible player.
11:13: To add to the well explained format if I do say so myself, here are the pots with all the teams due to be drawn this afternoon. You'd be forgiven for not being able to pronounce, let alone heard of many of them.

Pot one: Sevilla, Inter Milan, Tottenham Hotspur, PSV Eindhoven, Napoli, Dynamo Kiev, Villarreal, Fiorentina, Red Bull Salzburg, Metalist Kharkiv, Lille, FC Copenhagen.
Pot two: Steaua Bucharest, Standard Liege, PAOK, Celtic, Besiktas, Wolfsburg, Club Brugge, Dnipro, Trabzonspor, Panathinaikos, Sparta Prague, Borussia Monchengladbach.
Pot three: Everton, Young Boys, Dinamo Zagreb, FC Zurich, Estoril, Legia Warsaw, Partizan Belgrade, Torino, Feyenoord, Guingamp, St Etienne, Rio Ave.
Pot four: Dynamo Moscow, Krasnodar, Rijeka, Lokeren, Asteras, Slovan Bratislava, Apollon, Qarabag, HJK, Dinamo Minsk, Aab Aalborg, Astana.
11:08: We have less than an hour until the draw in Monaco so plenty of time to build-up what should be a facinating afternoon. Where best to start than with how today's draw with be conducted. Each of the four pots, which are ordered by each team's Uefa coefficient - based on performances in European competition over the past five years - have 12 teams. One team from each pot is draw into one of the 12 group lettered A-L. No two teams from the same country or pot can be drawn together but Uefa will at will alter fixture dates in the event of a stadium clash. Get all that? It's all downhill from here.

11:00: Following the drama which accompanied Thursday's Champions League draw, it's time to turn attention to the continent's second tier competition, the Europa League where we await the opposition for both Everton and Tottenham Hotspur in this year's competition. There are some other European heavyweights including holders Sevilla and Italian giants Inter Milan to look out for in a draw which really shows the breadth of the game in Europe.

FC Salzburg