A deal with Microsoft will help Cyanogen's stated plan to eliminate Google from its version of Android
Microsoft is seeking to expand its footprint on mobile and while its own Windows Phone - and upcoming Windows 10 - operating systems are at the forefront of that push, the company has been looking to expand its position on other platforms too, and the deal with Cyanogen is just the latest move in that direction.
Microsoft's CEO Satya Nadella has been pragmatic in his approach to opening up the company's biggest assets (such as the Office suite of apps) to all operating systems, launching specific versions for Apple's iOS and Google's Android operating system.
Now the company, which reportedly was a minority investor in a $70m (£46.5m) funding round of Cyanogen back in January, wants to natively integrate its apps into a platform which is gaining traction in certain markets around the world.
Cyanogen is a US-based company which has created a version of Android - called Cyanogen OS - which offers services not supported on the official version of Android, such as support for high-quality FLAC audio and the ability to deeply tweak the way the software looks and operates.
The software is available to download and use on any Android smartphone and also comes pre-installed on a number of devices from manufacturers including Chinese startup OnePlus and French smartphone maker Alcatel.
Taking Android from Google
The company, which is valued at around $500m, says it has around 50 million people using its version of Android, but its CEO Kirt McMaster has much bigger ambitions, saying in January that it wants to "take Android away from Google".
Part of that plan is to replace Google's app store - the Play Store - with a Cyanogen app store and the partnership with Microsoft will likely hasten this move.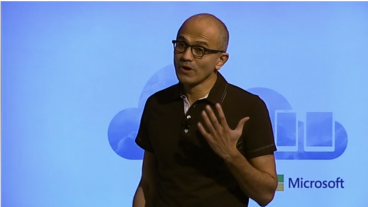 If Cyanogen was to remove the Play Store, then it would also have to remove other Google services and apps like Gmail, Maps and Search as part of what Google calls an "anti-fragmentation clause" it imposes on any company using its Play Store.
With Microsoft's help, Cyanogen could replace most (if not all) of Google's services with their Microsoft alternatives (Bing, Outlook, Bing Maps) while adding value with native Office apps.
McMaster said of the partnership: "People around the world use Cyanogen's operating system and popular Microsoft services to engage with what matters most to them on their mobile devices. This exciting partnership with Microsoft will enable us to bring new kinds of integrated services to mobile users in markets around the world."
Competition
Google's enforcement of the "anti-fragmentation clause" is one of the reasons Europe's competition authority has opened up an investigation into Android to establish if Google is using its dominant position in the market to force manufacturers to use its apps over alternatives from the likes of Microsoft.
From Microsoft's position, the move makes a lot of sense as it is very aware that its Windows Phone platform is very much an also-ran in the smartphone and tablet market behind Apple and Android.
To offset this lowly position, Microsoft has begun to offer its hugely popular products such as Word, Powerpoint and Excel as standalone apps on its competitors products.
"We aspire to have our tools within arm's reach of everyone, to empower them in all aspects of their lives. This partnership represents another important step towards that ambition," said Peggy Johnson from Microsoft following the Cyanogen announcement.
"We'll continue to deliver world-class experiences across productivity and communications on Windows, and we're delighted that Cyanogen users will soon be able to take advantage of those same powerful services."