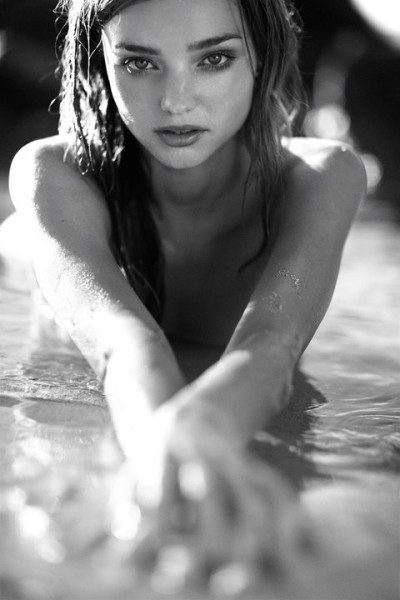 Supermodel Miranda Kerr is all set to stage her comeback, when she takes to the ramp at November's Victoria's Secret Fashion Show. Kerr gave birth to her son, Flynn, in January.
The Australian model is now heading back to work after a brief hiatus and there really isn't a better way to announce your return. Kerr will wear the high-profile lingerie brand's iconic Fantasy Bra, which is rumored to be worth $2.5 million.
"It's such an honor to wear the bra," said Kerr to People magazine, "And it's such a piece of artwork! It's absolutely stunning - it kind of feels a little mermaid-like - but I can't believe I'm wearing $2.5 million on my chest."
The "aqua push-up" bra has been created, in part, by "Long Island's London Jewelers, is handset with nearly 3,400 precious gems (including 142 carats of white and yellow diamonds, pearls, faceted citrines and aquamarines), all set in 18-karat white and yellow gold."
Traditionally, Victoria's Secret selects one supermodel, every year, to display this unique, bejeweled bra during their annual extravaganza.
Although the bra was initially showcased only in its catalogues, the lingerie giant decided, in 2001, to begin showcasing it during the annual fashion shows as well.
Former models who have worn these designer creations include Gisele Bundchen, Tyra Banks, Karolina Kurkova and Adriana Lima. However, the most privileged out of the lot is surely Heidi Klum, who has donned the Fantasy Bra on three different years.
Kerr is one of very few women to bounce back to her jaw-dropping figure just months after giving birth.
Start the slide show to view her hottest photos and catch a glimpse of her post-baby bod secrets.