South Africa's 'Monster of Tholeni' Bulelani Mabhayi Jailed for 625 Years for Rape and Murder Spree
'Village of Death' serial killer raped neighbours, then hacked them and their children to death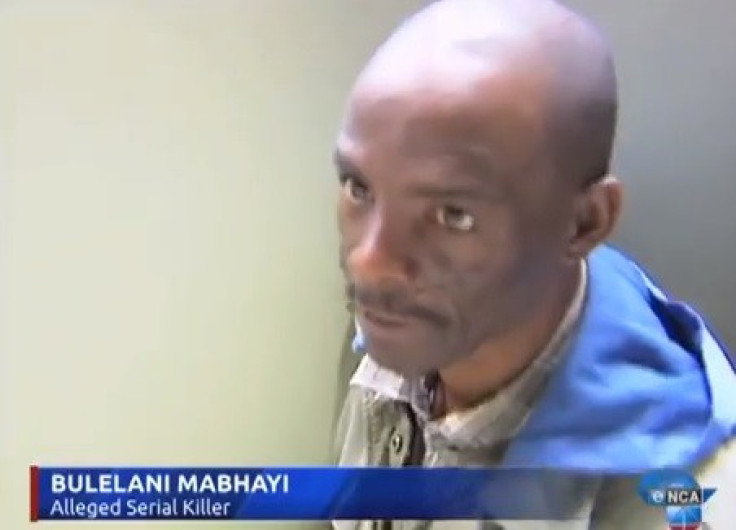 A South African villager has been sentenced to 625 years in jail for raping and murdering women and children, many of whom were his neighbours, over a five-year period.
Bulelani Mabhayi was sentenced to 25 life sentences for 36 counts of murder, rape and robbery in the village of Tholeni between 2007 and 2012.
He became known as the Monster of Tholeni, while the area itself gained the name of the "Village of Death".
Mabhayi, one of South Africa's most notorious and prolific serial killers, would prey on vulnerable women and children - targeting homes where there was no man present.
He would break into the houses, rape the women and girls and then hack everyone to death with an axe or panga machete. After killing the women, he would remove their wombs for muti (traditional medicine in South Afirca). In one attack, he killed a 15-month-old baby.
Mabhayi pleaded guilty to 20 murder charges, six counts of rape and 10 of breaking and entering with intent to rape. Around half of his victims were children.
According to the South Africa's Independent Online, Mthatha High Court judge Noluthando Conjwa said: "Between 2007 and 2012, the community of Tholeni lived in fear because there was a predator living among them. It's not clear how [you were] able to escape capture for such a long time.
"It mattered not how young the victim was. No one was spared. The common trend that runs through the wounds show the use of violent force. He would kill more than one victim in one house.
Almost caught
"I can't begin to imagine what was going through the minds of his victims while he was killing others.
"He was well known and liked by people of that community. He took an unfair advantage of his knowledge of the homes he worked for. The deceased were attacked in the sanctuary of their homes where they expect to be safe.
"He doesn't seem to realise the enormity of his actions. He agreed that had he not been caught, he would have continued with his crimes."
Mabhayi was almost caught in 2010 after police rounded up hundreds of men from the area to take their DNA and fingerprints. However, his details could not be lifted because he had no ID card.
He went on to kill five more people until his arrest in August 2012. He was caught after leaving a shoe at the home of one of his murder victims. Police found that it matched the shoe Mabhayi was wearing and were able to link his DNA to the murders.
Tholeni resident Noxolo Mxhunyelwa said she was pleased with the sentence. Mabhayi raped and killed her mother and her 13-year-old sister before hacking her baby to death. Her 12-year-old brother survived the attack but was left brain-damaged.
"It won't help the pain go away but at least I know that the killer is in jail," she said.
© Copyright IBTimes 2023. All rights reserved.