Oil Rally Cools, Providing Relief For Stocks
Oil prices flirted with one-year highs on Thursday before falling in a bout of profit-taking, which tempted investors back into stocks after several days of losses over inflation fears.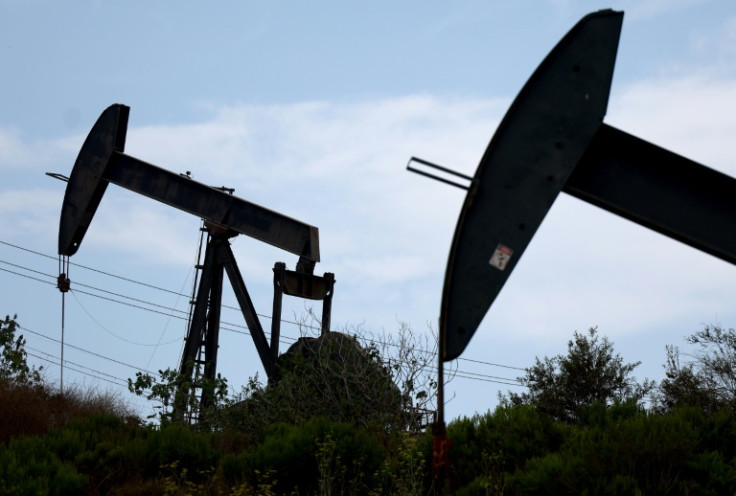 Oil prices flirted with one-year highs on Thursday before falling in a bout of profit-taking, which tempted investors back into stocks after several days of losses over inflation fears.
Worries that elevated energy prices will keep interest rates high in Europe and the US pushed stocks down sharply in September, dousing hopes that central bankers could start easing monetary policy.
Instead, Brent crude hit $97.69 a barrel on spot markets early Thursday, the highest price since November last year, before falling back.
New York's main contract, West Texas Intermediate, hit $95.03, a peak since August 2022.
Both the WTI and Brent closed lower on Thursday.
"Another leg up in oil prices has added to the market worries about sticky inflation, thereby stoking fears that interest rates will stay higher for longer," said Russ Mould, investment director at AJ Bell.
Crude has been supported in recent sessions by supply concerns after Saudi Arabia and Russia extended output cuts until the end of the year, alongside a pickup in demand in key consumer nations including the United States and China.
News that crude stockpiles at a key US storage facility in Oklahoma had fallen to the lowest levels since July last year further boosted prices.
The dollar also retreated from strong recent gains made on expectations the Federal Reserve would probably raise US borrowing costs once more, and take a while before cutting them.
The European Central Bank is also unlikely to ease monetary policy anytime soon, analysts say, even though inflation in EU heavyweight Germany fell to 4.5 percent in September. This is the lowest level since Russia's invasion of Ukraine.
In the United States, Wall Street stocks closed higher as the yield on the 10-year US Treasury note eased, bringing relief to investors.
Investors have been "on edge" this week as the 10-year yield kept making new highs, said Angelo Kourkafas of financial firm Edward Jones.
"The biggest headwinds for the markets recently -- rising yields, rising oil prices, rising dollar -- all three are lower today," he added.
"So, think of it as a relief rally in a sense."
A forecast that an expected recession in Germany this year could be more painful than investors think also cast a cloud over equities, though the euro managed to recover after days of weakness against the dollar.
Europe's biggest economy could shrink 0.6 percent this year, more than previously thought by leading economic institutes.
"The most important reason for this revision is that industry and private consumption are recovering more slowly than we expected," said Oliver Holtemoeller from the Halle Institute for Economic Research, one of the five groups behind the forecast.
Against the yen, the dollar remains close to the 150-yen mark last seen in October 2022, leading Japanese authorities to say they are keeping an eye on movements and are ready to intervene to support their currency.
News that troubled Chinese property developer Evergrande suspended trading in its Hong Kong-listed shares compounded the overall caution, given the widespread potential impact of any financing problems for the company.
Brent North Sea crude: DOWN 1.2 percent at $95.38 per barrel
West Texas Intermediate: DOWN 2.1 percent at $91.71 per barrel
New York - Dow: UP 0.4 percent at 33,666.34 (close)
New York - S&P 500: UP 0.6 percent at 4,299.70 (close)
New York - Nasdaq: UP 0.8 percent at 13,201.28 (close)
London - FTSE 100: UP 0.1 percent at 7,601.85 points (close)
Frankfurt - DAX: UP 0.7 percent at 15,323.50 (close)
Paris - CAC 40: UP 0.6 percent at 7,116.24 (close)
EURO STOXX 50: UP 0.7 percent at 4,161.56 (close)
Tokyo - Nikkei 225: DOWN 1.5 percent at 31,872.52 (close)
Hong Kong - Hang Seng Index: DOWN 1.4 percent at 17,373.03 (close)
Shanghai - Composite: UP 0.1 percent at 3,110.48 (close)
Euro/dollar: UP at $1.0570 from $1.0502 on Wednesday
© Copyright AFP 2023. All rights reserved.