A paedophile who sexually assaulted a 10-year-old girl in a cemetery tried to stab a prosecutor in the head as his conviction was being handed out by a jury.
Joshua Harding launched the vicious attack in a Michigan courtroom, appearing to miss the man's head by inches, after being found guilty on 2 August.
The video of assault shows the 35-year-old run from his side of the courtroom across to the prosecutor's bench holding an item in his right hand. The object, which police say was a piece of metal, appeared to be concealed up Harding's left sleeve before the shocking assault.
Assistant prosecutor Jonathan Roth, who was not injured in the incident, was forced to jump out of the way before the assailant was tackled by police and hauled to the ground. Harding, from Okemos, near Lansing, roughly 50 miles west of Detroit, is now being charged with terrorism and attempted murder after the incident.
On Wednesday, 21 September, Harding was sentenced to 19-38 years in prison for the sexual assault. He was on trial for two charges related to that incident earlier this year when he was accused of fondling two children in a cemetery.
The jury convicted Harding of one charge of second-degree criminal sexual conduct, but was unable to reach a verdict on the other sexual assault charge, reported the Lansing State Journal. He said he plans to appeal his conviction.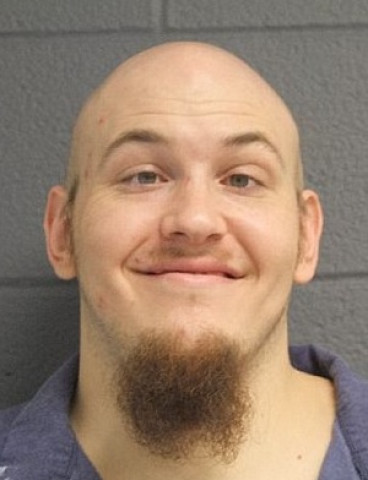 A registered sex offender, prosecutors argued that Harding should have faced up to 50 years in prison as he was repeat offender.
Often his attacks took place in the weeks after his release from prison.
Ingham County Circuit Court Judge James Jamo, said at the hearing: "The danger he presents, in particular to children in the community, deprives families of the ability to feel safe in having their children engaging in activities that kids should be able to do without having to have a guard stand watch over them at all times. This impacts everyone. It does impact the community. That is not lost upon me."
Harding will make another court appearance to face the new charges this year.
"He is a predator who cannot and will not be rehabilitated," Roth added at his hearing, which took place by video link.
"In this case, we are not bringing to you a possibility, but a sure thing. When and if this man is released, he will re-offend. And he will do so with children."