A petition to force First Lady Melania Trump to move to the White House or to pick up the costs for her security at Trump Tower has surpassed the 130,000 mark.
The first lady intends to stay in New York until the couple's 11-year-old son Barron finishes the school year in June.
"The US taxpayer is paying an exorbitant amount of money to protect the First Lady in Trump Tower, located in New York City," the petition states. "As to help relieve the national debt, this expense yields no positive results for the nation and should be cut from being funded."
If the Change.org petition reaches its goal of 150,000 signatures, it will be delivered to US Senators Bernie Sanders of Vermont and Elizabeth Warren of Massachusetts.
According to the New York Times, the New York Police Department (NYPD) has estimated it costs between $127,000 (£101,942) and $146,000 a day to provide protection for Melania and Barron Trump when the president is not in town.
That is further estimated to rise to $308,000 (£247,230) a day when the president is in New York—however, The Independent noted that Trump has not returned since his inauguration.
The NYPD revealed the cost to protect Trump and his family between the election and Inauguration Day reached $24m. Comments from petitioners revealed the frustrations many taxpayers have about having to pay for the Trump's security outside of Washington DC.
"This is an exorbitant expense that the United States government can not afford. Donald Trump is trying to cut all kinds of social programmes for those who are less fortunate, & yet he is allowing the government to pay millions of dollars for security for 2 people, just because they don't want to move to the White House," wrote Becky Olson-Kellogg of Minnesota. "If that is their decision, then they should be paying privately for the security — not the American taxpayers!!"
"Every first lady has lived in the white house. We pay enough for Trump's golf trips," added Lyn Siegel Siegel of New Jersey.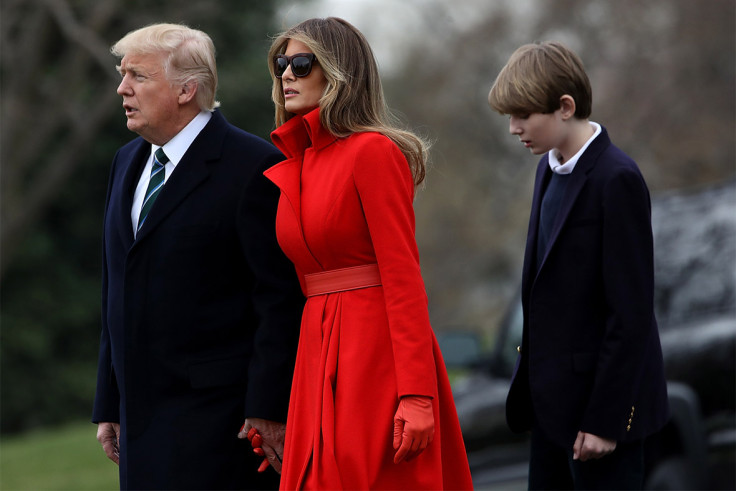 Trump's trips to his Palm Springs resort, Mar-a-Lago, have come under increasing scrutiny, particularly from Democratic lawmakers.
On Monday (28 March), the Government Accountability Office announced it would review how classified information is kept secure at the Florida golf course, Reuters reported.
Meanwhile, Florida Democrats have claimed that Trump's frequent weekend visits to Mar-a-Lago have become a source of great "financial burden" on the local government. Local lawmakers have urged the president to reduce the number of times he visits or to help pay for the expenses.
Representative Lois Frankel wrote a letter to the president in which he laid out the expenses that Palm Beach County has taken on for his visits.
"While we want the fullest protection for your visits, we hope you would be responsive to the losses of small businesses and residents of Palm Beach County," Frankel wrote.
"If compensation is not assured of being forthcoming, we respectfully ask that you curtail your visits until such time as that matter is resolved favourably to our area."
Frankel said that the Palm Beach County Sheriff's Department and Fire Rescue have spent more than $1.7m in overtime costs. The city has also taken on an additional $60,000 (£48,161) overtime expense for law enforcement that handle Trump-related protests. Lantana Airport has reportedly lost $170,000 (£136,458) over flight restrictions, while other companies at the airport have lost an estimated $720,000 (£577,941).