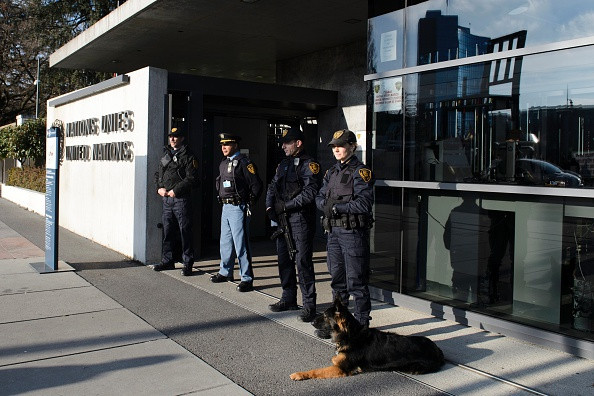 The Swiss president has revealed she received a tip-off about an Islamic State (Isis) cell operating in Geneva. On Thursday (10 December) Swiss police launched a manhunt in the city for four men suspected of being involved in the 13 November's terrorist attacks in Paris.
Geneva law enforcements raised the level of alert while searching for the alleged terrorists, who were believed to be in the diplomatic hub as armed guards were stationed outside the UN complex in the city.
Simonetta Sommaruga told a news conference today (11 December): "The Swiss government received information from a foreign authority regarding a potential IS cell in the Geneva area. Federal authorities examined this information and shared it with the local police. There is currently no indication that there was a concrete attack planned."
Swiss federal police said they have no information linking the suspects to the deadly attacks in Paris last month which killed 130 people.
Police in Belgium have been searching for Salah Abdeslam, who rented a car which was used to escort gunmen to the Bataclan theatre in Paris, where they unleashed a wave of terror. Europe's most wanted man, Abdeslam has been the subject of an international manhunt since the attacks, with 2,000 officers tasked with finding him.
The suspect who is the brother of one of the suicide bombers, is thought to have fled Paris on the night of the massacres and managed to evade the authorities, even after being stopped at the border. On 9 September, Abdeslam was checked at the Austrian-Hungarian border in a Mercedes vehicle in company of the two men, who used fake Belgian identity cards under the identities of Samir Bouzid and Soufiane Kayal.
Last month, the Italian government confirmed that the fugitive jihadist passed through the country in the summer, boarding a ferry from the southern port of Bari to Greece on 1 August. He was reportedly accompanied by Ahmad Dahmani, another Belgian arrested in Turkey last week in connection with the Paris attacks. The pair made a return trip to Bari on 5 August and are later understood to have crossed to France by car.
An arrest warrant was issued for Abdeslam in Morocco at the end of last month, authorities said. However, a Moroccan security source told Reuters it was not clear if he was in North Africa.
Seven suicide bombers died in Paris: two at the Bataclan concert venue, three at the Stade de France, one at a cafe on Boulevard Voltaire, and one during a police raid at an apartment in Saint-Denis. The jihadis who died in the attacks wore explosive vests.