Syria: Kurds close in on Isis capital of Raqqa as ceasefire looms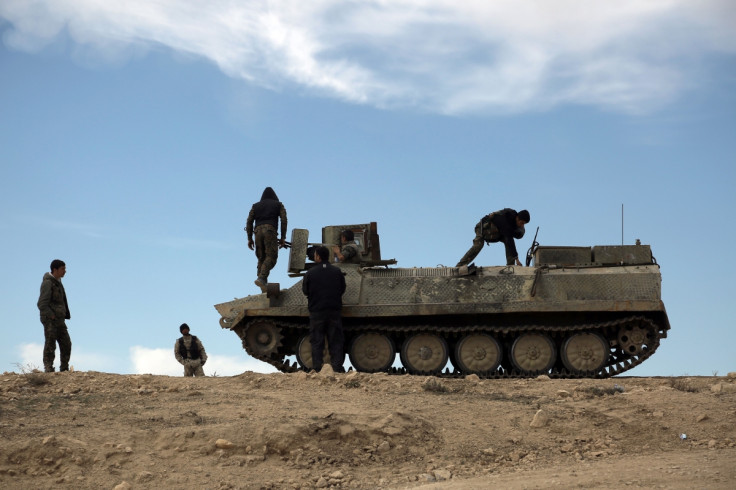 Kurdish militias are eyeing the Islamic State's (Isis) de facto Syrian capital of Raqqa after capturing a strategic town to its east, as regime forces were also taking on the jihadis and other rebel groups in a last gasp push just hours before a truce is due to take effect. The People's Protection Units (YPG) and allied Arab forces have consolidated their hold on Shadadi, which fell earlier this week with the backing of US air strikes.
YPG supporters shared a symbolic video online said to show a female fighter taking down the IS (Daesh) flag from a mast in the main square, replacing it with the yellow emblem of the Syrian Democratic Forces (SDF) umbrella group. Other social media postings depicted smiling fighters posing before the town's gates and a cache of weapons seized from the Islamist group.
With its nearby oilfields, Shadadi was a strategic prize for its location on an IS supply route connecting Raqqa and Mosul – which has now been cut off. A swift IS attempt to retake the town has been repelled. The victory left the jihadi group's de facto capitals in both Syria and Iraq isolated and more sensitive to a possible offensive.
Abdulkarim Sarokhan, defence minister of the Kurdish-controlled region in northern Syria, told The Times the YPG was ready to "tighten the siege of Raqqa". Earlier, Alan Semo, a UK-based representative for the YPG's political arm, the Democratic Union Party (PYD), told IBTimes UK Mosul was also in their gunsights, with Kurdish militias ready to participate in a wider coalition offensive on the northern Iraqi city.
Meanwhile, regime troops closed in on IS from the west, capturing several villages in the northern province of Aleppo, according to state media and monitoring groups. Forces loyal to Bashar al-Assad reportedly took over three villages near Khanaser, a town between Hama and Aleppo city they lost to IS and quickly recaptured in recent days.
The jihadi group could suffer further blows in the near future if a ceasefire deal that leaves out terrorist organisations as the only legitimate target will hold. The agreement brokered by the US and Russia, which is set to enter in force at midnight on 26 February, gained the last minute backing of nearly 100 rebel factions, highly increasing its chances of success.
The High Negotiations Committee (HNC), Syria's main opposition coalition, announced a total of 97 factions have agreed "to respect a temporary truce... for two weeks," according to AFP reports. There were fears however that the regime and its Russian patrons would continue to target rebel forces, on the pretext that they too are Islamic terrorists.
In its statement the HNC warned against exploiting the "proposed text to continue the hostile operations against the opposition factions under the excuse of fighting terrorism".
Hours before the ceasefire deadline Russian warplanes were heavily bombing rebel positions in Damascus's Rif Dimashq province, with SOHR reporting 26 air strikes over the city of Duma, where regime shelling was also said to have killed a woman and a child. Fighting was also ongoing in the al-Merej and al-Qalamoun areas.
Both the SDF and the regime have pledged to respect the cessation of hostilities, albeit they also made clear they will continue to attack IS and al-Qaeda's Nusra Front.
© Copyright IBTimes 2023. All rights reserved.