Taiwan is planning to strengthen its naval forces by building eight submarines to counter what it sees as escalating military threat from China. The announcement comes ahead of the China-US summit in Florida.
The eight submarines will be indigenously-built and join the current fleet of four ageing foreign-built vessels, Lee Tsung-hsiao, navy chief of staff, told lawmakers on Wednesday (5 April). It is believed to be the first time that Taiwan has publicly confirmed the number of vessels being planned.
"In our indigenous submarine project, we hope to be able to make eight submarines," Lee said.
Delivery of the submarines is expected to take up to 10 years and the vessels will be part of the country's defence policy. But the initial design of the entire combat system will be completed by early 2018, according to Cheng Wen-lon, chairman of the state-controlled shipbuilding company.
Cheng's CSBC Corporation Taiwan has been contracted to build the submarines, Reuters reported.
Earlier in March, Taiwanese President Tsai Ing-wen toured one of the navy's four ageing submarines and launched the island nation's first submarine programme.
According to defence experts, Taiwan will have to depend on technological support from foreign countries to build its own home-made advanced vessel as Taipei has never built a submarine before.
The existing old submarines were purchased from the US and the Netherlands at least 30 years ago.
Taiwan's announcement comes ahead of the first meeting between Chinese President Xi Jinping and his US counterpart Donald Trump. Taipei is reported to be wary of the meeting.
Taiwan is concerned that it may be used a pawn by the two countries. Earlier in March, it said it must protect its own interests should the US and China choose to discuss Taipei.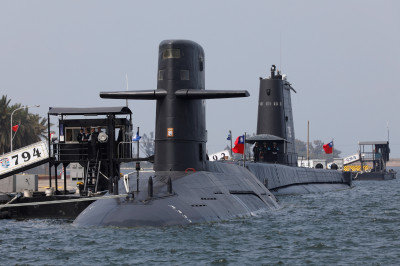 China, which regards Taiwan as its renegade province, has strongly opposed any sort of diplomatic relationship between Taipei and Washington.
Soon after his election victory, Trump held a telephonic conversation with Tsai in December, breaching the age-old diplomatic protocol. The already troubled China-US ties were further strained following the incident that resulted in Beijing in casting doubts on Trump and his administration's commitment to the 'one China' principle.
The US is Taiwan's sole arms supplier and is obligated to help Taiwan defend itself. However, China has never appreciated the arms deals and its anger has reportedly slowed down the pace of sales, Reuters noted.