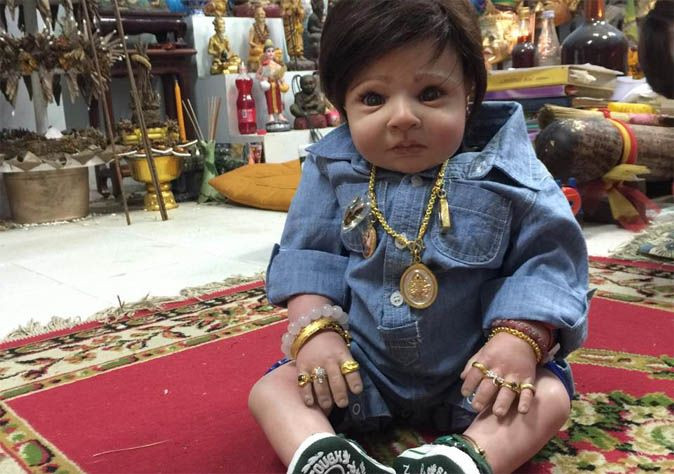 A new craze for life-size dolls is sweeping through Thailand and a low cost airline has been forced to draw up new guidance for staff on passengers bringing on board these dolls. The dolls, called look thep or Child's Angels have become fashionable in Thailand after several celebrities 'adopted' them in the belief that they bring good fortune.
The owners put the dolls through a ceremony to 'draw angels into them'. They take care of the dolls, which are the same size as infants, as they would real children, which includes cradling them, feeding and dressing them up.
The dolls can cost anywhere from 2,000 baht to 20,000 baht (£1.1 to £391; $55 to $556). The owners believe that the dolls hold children's spirits which bring them good luck, wealth, blessing and protection from harm. The Carbonated TV website said the dolls are believed to be possessed by the spirits of deceased children, who are invited to inhabit the doll through ancient rituals.
In a bid to avoid upsetting passengers who want their dolls to be treated as infants, Thai Airways' low cost carrier, Thai Smile Airways, is now giving passengers the option to buy an additional seat for the doll.
Those who do purchase an extra seat for their doll, will have all facilities and services accorded as if a real child is travelling with them. This means, snacks and drinks will be served to the dolls and seatbelts must be fastened during take-off and landing.
The airline issued a statement to explain the guidance issued, noting that it was an internal document for staff. It explained that more than 40 passengers had brought their Child's Angel on board over the past two or three months and there was a growing need to issue guidelines for cabin crew staff to deal with the situation.
The airline noted that some passengers were unhappy when cabin crew members placed their dolls on the overhead compartments or under the seats for safety reasons. The guidance therefore outlines procedures for its staff treat the dolls respectfully but at the same time sticking to the airline's safety requirements.
Thai Smile Chief Executive Officer Woranate Laprabang said that most passengers with the dolls place them on their laps or strapped them on seats next to them, as they believe that the dolls are valuable. This practice, he said, may obstruct or disturb other passengers on board.
He said these dolls can be placed on seats if they are unoccupied but they must have seat belts fastened to prevent them from being flung around in the event of turbulence. For passengers who choose not to purchase an additional ticket for their dolls, they will be treated as carry-on baggage and will have to weigh not more than 7kg.
Chula Sukmanop, the director of the Civil Aviation Authority of Thailand said a meeting of all Thai-registered airlines and airport operators will be convened in a few days to discuss standard procedures to handle passengers with Child Angel dolls. "Without a standard, if passengers carry on look thep dolls aboard airplanes and cause a problem or unexpected incident in the way that affects air safety, that may affect efforts to solve the red flag and significant security concern of the International Civil Aviation Organisation."
The new trend has even prompted several restaurants in Bangkok to offer children's meals to the dolls.