Thailand: Policeman's Wife Shot Dead and Set on Fire in Revenge Attack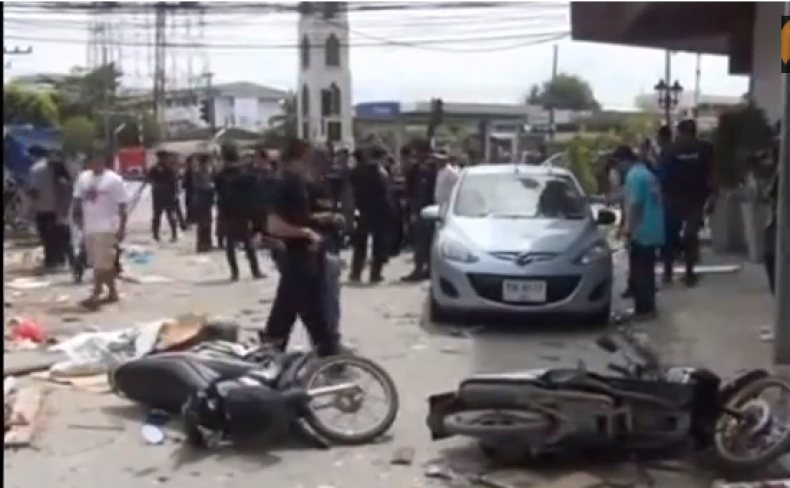 A policeman's wife has been shot dead and then set on fire in front of a terrified crowd at a busy market in Pattani, Thailand, officials reported on Monday.
The woman, 28, was shot down on Sunday afternoon as she returned to her car from a market in the Ratapanyang area of Pattani province.
After being shot, the woman's body was set alight, a police officer told AFP.
The attack was allegedly carried out in revenge for the deaths last week of three Muslim brothers, aged three, five and nine.
The boys were shot in front of their home in neighbouring Narathiwat province. Their pregnant mother and father were also shot in the attack but survived.
Srisompob Jitpiromsri, at Prince of Songkla University in Pattani, said the boys' deaths "have set off a chain-reaction which will be hard to control unless authorities can bring to justice their killers".
"The insurgent movement is taking their deaths as an opportunity for revenge. Local feelings over this are running very high," he said.
Nearly 6,000 people have died and 10,000 been injured since 2004 ethnic separatist insurgency, which has pitted separatist Malay Muslims against Buddhists.
The insurgents demand a level of autonomy from Thailand in the Pattai region, which comprises southern Thai provinces of Pattani, Yala, Narathiwat and parts of Songkhla, and the northern part of Malaysia.
Experts say the rise in deaths is linked to the stalling of peace talks while the Thai government struggles to curb anti-government protests in Bangkok.
Rebels, including those from the Patani independence movement Barisan Revolusi Nasional, have made a series of demands so that peace talks can continue.
According to the region's Internal Security Operations Command, there were 320 bombings in the four border provinces between January and December 2013, compared with 276 reported bombings in 2012.
NGO Human Rights Watch (HRW) warned against abuses committed by both sides.
"Of the 2,463 people killed in attacks during the past three-and-a-half half years, 2,196 (or 89%) were civilians. Buddhist Thais and ethnic Malay Muslims were killed in bomb attacks, shootings, assassinations, ambushes, and machete hackings. At least 29 victims have been beheaded and mutilated.
"There have been hundreds of militant attacks on teachers, schools, public health workers, hospital staff, and community health centers. For the first time in the region's history of separatist insurgencies, Buddhist monks and novices are now among those killed and injured by separatist militants," HRW said in a 2007 report.
"Village-based militants called Pejuang Kemerdekaan Patani (Patani Freedom Fighters) in the loose network of BRN-Coordinate (National Revolution Front-Coordinate) have now emerged as the backbone of the new generation of separatist militants.
"Increasingly, they claim that the southern border provinces are not the land of Buddhist Thais, but a religious 'conflict zone' which must be divided between ethnic Malay Muslims and 'infidels'. The separatists seek to forcibly liberate Patani Darulsalam (Islamic Land of Patani), from what they call a Buddhist Thai occupation," HRW continued.