Two and a Half Men Season 12: 'Gay Marriage' Between Walden and Alan Confirmed by Producers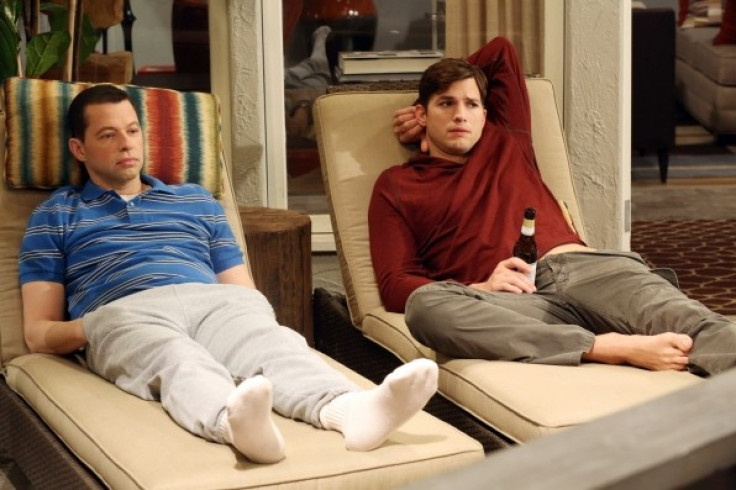 Two and a Half Men, the longest running comedy drama from CBS, will run its final season this year but not without any controversy.
Reportedly, the veteran comedy series will feature gay adoption and possibly a gay marriage during its 12th and final season, EW reported.
According to the website, Nina Tassler, the entertainment chairman of CBS, told reporters that Ashton Kutcher's Walden will face a serious health scare, which will prompt him to 'add more meaning to his life'.
But soon, Walden will realise that it's "very difficult to adopt a child as a single, straight man," and then he will decide to marry the heterosexual Alan in order to accomplish his adoption goal.
"He starts the [adoption] process and realises it's very difficult to adopt the child as a single straight man. So, once and for all, he decides he's going to propose to Alan (Jon Cryer) they're going to adopt a child as a 'gay' couple," Tassler told the website.
Show producer Chuck Lorre explains the future gay wedding as bringing the show to a full circle. While speaking with Hollywood Reporter, Lorre says that the marriage is about raising a child with 'great deal of love' and not their sexuality.
"You're going to see two men who are not gay but are going to raise a child with a great deal of love and attention," Lorre told the website.
"Their sexuality is irrelevant to loving and caring for a child, which maybe that's the big story that we wind up telling: taking a kid out of the system and giving him a home. What's better than that?" he added.
So will there be a real wedding? "Of course, there's going to be a wedding; we're a sitcom, we're going to have a wedding. Walden and Alan are going to get legally married. They have to get legally married to adopt," Lorre told HR.
"No offense is intended, and I hope none is taken. We've always been somewhat of an offensive show, so it wouldn't surprise me if this is going to be offending people. We can't go out with dignity, because we've never had any," he added.
The show takes place in California, which has legalised homosexual marriages but Jon Cryer insists that the show is not cheapening same sex marriage instead they will do it 'tastefully'.
"Obviously we've cheapened plenty of things over the decade that we've been on the air. But that is something we're not intending to do. We'll see where it goes. I'd love to say, 'It's Two and a Half Men, you know, we're going to do it tastefully," he said.
Two and a Half Men season 12 will return on CBS on 30 October this year.
© Copyright IBTimes 2023. All rights reserved.