Ukraine: Svoboda Party Building Close Relations with Germany's Neo-Nazi NPD Party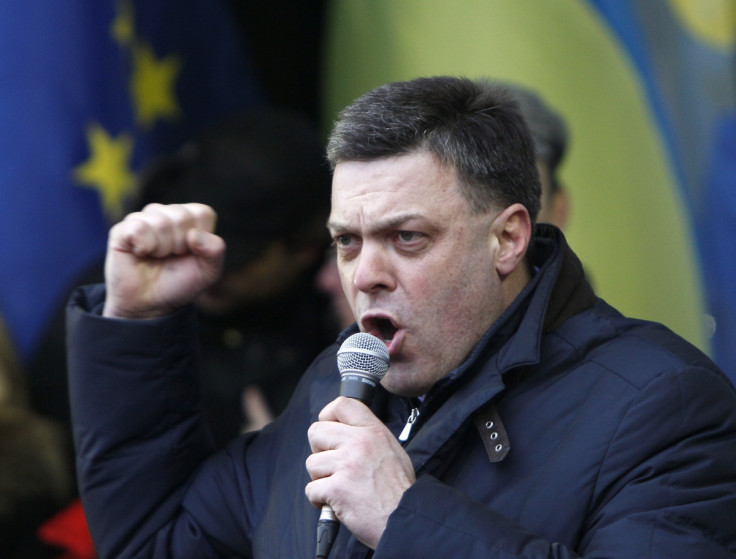 It has been revealed that the neo-Nazi National Democratic Party of Germany (NPD) is courting close relations with Ukraine's nationalist Svoboda party.
Last year, ex-leader of the NPD party Holger Apfel hosted a Ukrainian delegation of three Ukrainian parliamentarians at a parliament building in Dresden that included Svoboda MP Mikhail Golovko.
Apfel declared Svoboda "one of the most important European right-wing parties," according to Spiegel.
Apfel told the delegation that Svoboda is part of the "phalanx of patriotic powers" before encouraging the "intensification of cooperation" between the two nationalist parties.
He added that an "opposing model to the EU dictatorship of Brussels Eurocrats" must be created as EU officials were nothing but "willing helpers to international capital".
Recognition of the Svoboda party in Germany goes even deeper into the heart of its government; Germany's ambassador in Kiev met with the party's leader Oleg Tyagnibok.
Russia has initiated a criminal case against the leader of Ukraine's opposition Svoboda party Oleg Tyagnibok for forming an armed group with intent to commit assault.
Svoboda has increased its presence in Germany as its links with NPD grow by establishing chapters in Frankfurt, Cologne and Munich.
The German government views Svoboda as a "right-wing populist and nationalist party" which exhibits "in part right-wing extremist positions".
A demonstration of Svoboda's right-wing positions was a rally organised by the party to commemorate the 70<sup>th anniversary of the 14<sup>th Waffen SS Grenadier Division, made up of ethnic Ukrainians.
© Copyright IBTimes 2023. All rights reserved.