Former US presidential candidate John McCain believes Vladimir Putin is a bigger threat to the country's national security than Isis.
The senator spoke ahead of his visit to Australian capital Canberra for security talks and earmarked reports of Russian meddling in the 2016 US election as a worrying sign that the Putin-led nation could be "the greatest challenge that we have".
"I think he is the premier and most important threat, more so than Isis," McCain said of Putin.
"I think Isis can do terrible things, and I worry a lot about what is happening with the Muslim faith and I worry about a whole lot of things about it."
McCain, who ran for US President as the Republican candidate in the 2008 election, eventually losing out to Democrat Barack Obama, reinforced his belief that Russia attempted to interfere with the recent race for the White House between now-US President Donald Trump and Hillary Clinton.
He also suggested they tried to play a part in the French election between Marine Le Pen and Emmanuel Macron.
"It is the Russians who are trying - who tried to destroy the very fundamentals of democracy and that is to change the outcome of an American election.
"I have seen no evidence they succeeded but they tried and they are still trying. They just tried to affect the outcome of the French election."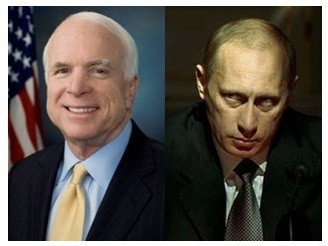 Putin has denied any notions of Russian meddling in the US election, responding, "Read my lips – 'no'", when asked if he had any involvement.
The accusations of such a scandal have already seen FBI Director James Comey fired by Trump amid claims he was uncovering links between Trump and Russia, as well as the President's son-in-law Jared Kushner allegedly having contact with the Kremlin and discussing creating a back channel.
In addition to Isis and Russia, McCain spoke of the threat faced by North Korea, who launched yet another ballistic missile test towards Japanese waters on Sunday (29 May). He feels the growing tensions between the US and North Korea could soon bear similarities to the Cuban missile crisis.
"I don't think it's acceptable to have an intercontinental ballistic missile — or a missile aimed at Australia — with a nuclear weapon on it, and depend on our ability to counter it with an anti-missile capability," he said.