Who is Pierre Konrad Dadak? Jet-setting arms dealer accused of fuelling South Sudan war
Former army officer accused of masterminding gang that sold AK-47s and tanks to clients in South Sudan
A French millionaire of Polish origin has been arrested in Spain on suspicion of being behind an arms deal that fueled war in South Sudan. Pierre Konrad Dadak, 40, was apprehended in his luxury villa in Ibiza as special security forces raided his mansion following a four-year-long investigation.
Dadak was caught attempting to escape from a window after hiding in a panic room for several minutes, as his bodyguards clashed with security forces.
The magnate is accused of having posed as a diplomat to smuggle weapons in South Sudan, which descended into civil war in 2013.
Dadak, a former army officer, is believed to have masterminded a gang that sold more than 200,000 AK-47s, missile launchers and tanks to clients in the war-torn African nation, El Espanol website reported.
Claiming to be a diplomat from Guinea Bissau, Dadak erected a plaque outside his property on the party island that said he had diplomatic immunity. It is also understood that he used the Gambian presidential plane to send military weapons to the embattled South Sudan.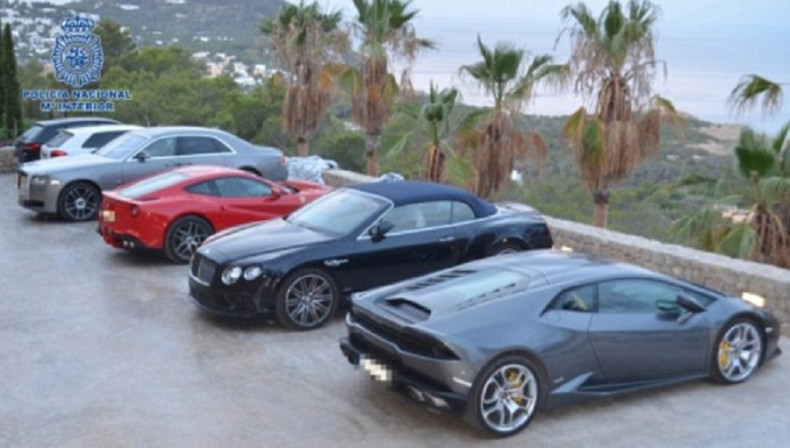 The raid at the mansion resulted in the arrest of nine people, including Ukrainian model Kateryna Dirgina, Dadak's ex-girlfriend, accused of money laundering.
A spokesman for the Spanish police unit that made the arrest said: "The billionaire ring leader was using an international network of companies and contacts to extort and receive payments for alleged arms trafficking, even using the presidential plane in Gambia to sell weapons to this country."
The billionaire is said to have links with bogus companies across Europe and Africa for money laundering and tax evasion purposes, including in the UK, Belgium and France. He also used a violent criminal ring based in Holland to collect huge debts.
"On one occasion, they were sent to Marbella to collect four million euros," said the policespokesman.
South Sudan's descent into civil war
The conflict in South Sudan, the world's newest nation, erupted in 2013 when President Salva Kiir, of the Dinka ethnic group, fired his deputy Riek Machar, from the Nuer group, and his cabinet.
Ethnic-related violence then spread, with militia groups carrying out attacks in villages and areas known to be inhabited by either the Dinka or Nuer tribes.
South Sudan conflict explained
More than 10,000 civilians have so far been killed in the conflict, amid allegations of crimes against humanity committed by both sides, including extrajudicial killings, abductions, rape, torture and use of child soldiers. At least two million people have also been displaced.
Although the warring factions have signed at least seven peace deals, violence has continued, and a report in January from the African Union (AU) blamed both leaders for the ongoing unrest.
In the latest outbreak of violence, at least 300 people were killed in the capital Juba earlier in July. The South Sudanese government has been urged to accept more peacekeepers in the country, in a plan backed by the AU. However, the government opposed the plan, with the South Sudanese envoy to the UK exclusively telling IBTimes UK the country does not want "to be meddled with by foreign troops".