Zimbabwe's next leader: Who is Bona Mugabe-Chikore, Robert Mugabe's possible successor?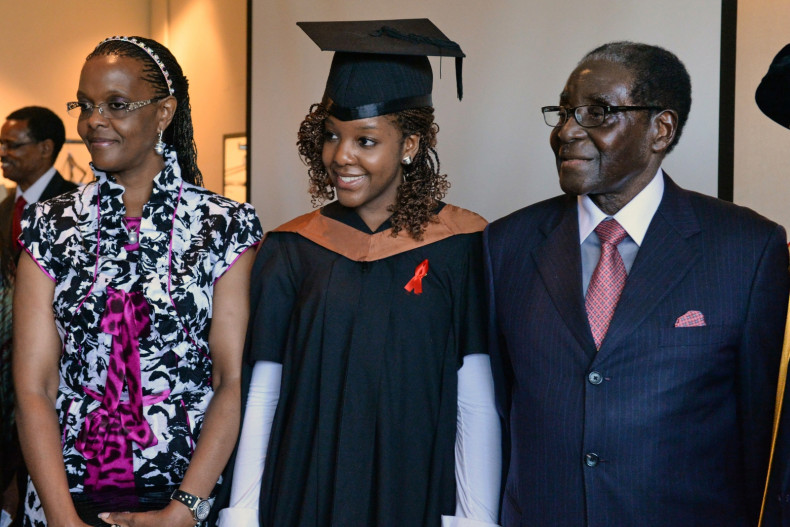 In recent months, Zimbabwe leader Robert Mugabe has taken his daughter Bona Mugabe-Chikore on official visits, leading to speculation that she is being prepared for high office.
Photographs this week show the 24-year-old with Mugabe as part of Zimbabwe's state delegation to Japan. The inclusion of Mugabe-Chikore on the government trip to Japan and the decision to allow her to sit by Mugabe's side during an official meeting with Japanese Prime Minister Shinzo Abe has intensified speculation.
Mugabe, 91, is accompanied in his formal meetings by his ministers, and by his wife, Grace, on social engagements. But during the visit to Japan, Mugabe-Chikore is seated on Mugabe's right while foreign affairs minister Simbarashe Mumbengegwi is seated on his left with local government minister Ignatius Chombo.
A government spokesman denied Mugabe-Chikore's presence had any political significance, but has provoked strong comment from the country's opposition, according to a Times report.
Obert Gutu, spokesperson for the opposition MDC party, said it showed "that the state has been virtually privatised by the Mugabe dynasty".
In a Nehanda Radio report, Gutu said: "There's absolutely no justification why one Bona Mugabe-Chikore should have been included as part of the official government delegation to Japan. Last time I checked, Bona is not a government official.
"Why, therefore, should State funds be utilised to fund her jamboree to Japan?"
Mugabe-Chikore is the first child of Zimbabwe president Robert Mugabe and Grace Mugabe. She attended the Dominican Convent School in Harare.
Grace Mugabe, 49, has fallen severely ill in recent months and she has been treated in Singapore. In her absence, Mugabe-Chikore has taken a prominent role at her father's side on official trips and events.
Enrolling under an alias at the City University of Hong Kong, she graduated in 2011 with an honours degree in accountancy and administration.
She also has a master's degree in banking and finance from the Management Development Institute of Singapore.
Last year, Mugabe-Chikore married Simba Chikore, who was believed to be an Emirates airline pilot. However, a Daily Telegraph report stated that he did not work the airline.
The couple wed in a £3m ($4.49m) ceremony which took place at President Mugabe's vast £10m ($14.95m) private residence in Harare.