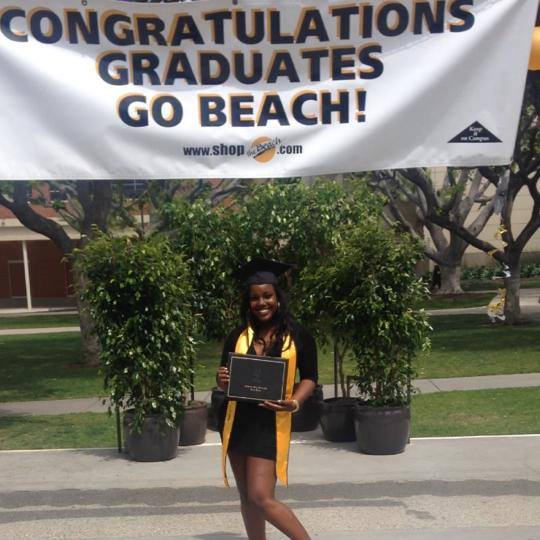 A 25-year-old woman sparked controversy after she posted a photo on a Facebook page, of her breastfeeding her baby at her college graduation ceremony.
Karlesha Thurman posted the image to a Facebook page called Black Women Do Breastfeed. The picture went viral, when the page reposted her photo.
The California State University, Long Beach graduate was the target of harsh comments with people calling her actions "inappropriate."
I'm all for breast feeding. But at a graduation come on y'all that was inappropriate

— Souls of Black Folk (@jerseygrad2016) June 8, 2014
Maybe I still have sleep in my eyes but did I just see a pic of a chick really breastfeeding during middle of her graduation? ?????

— Moderate (@urQuel_5dawg) June 8, 2014
That picture of the girl breast feeding her baby at graduation was not "empowering" at all.

— Mexican Vampire (@lovelylooksz) June 9, 2014
Not to mention the fact that she took a picture. Like breastfeeding is one thing, at/during a graduation in public is another AND a picture?

— Slim. (@whatdidaprilsay) June 8, 2014
Don't think the breastfeeding at a graduation is the issue. I think it's smiling and taking a picture and then posting it online is weird.

— Tweetgood Mac (@SnottieDrippen) June 8, 2014
However, many came forward to support her decision, including former NFL wide receiver Chad Johnson.
Breast feeding & graduation (nice combo) RT @POPSS0N: BRUH pic.twitter.com/dBkygaj9QN

— Chad Johnson (@ochocinco) June 8, 2014
I really don't see the big deal about that woman breast feeding at her graduation.

— $hadyoncé (@naeePALM) June 9, 2014
Honestly ? Shaming a woman for breast feeding at her graduation? Babies gotta eat too. tf ? Y'all trip Over the stupidest things.

— M A R I A N (@marianxo__) June 9, 2014
Thurman's partner Andre Brown took to his Facebook account to support her as well.
Thurman revealed that her daughter was her motivation throughout college and that is why she wanted to share the picture.
I can't take anymore tonight, thanks to all who have had nothing but positive things to say about my photo breastfeeding at graduation. ???

— ✨✨ARiES BABY✨✨ (@Kay_Danae) June 9, 2014