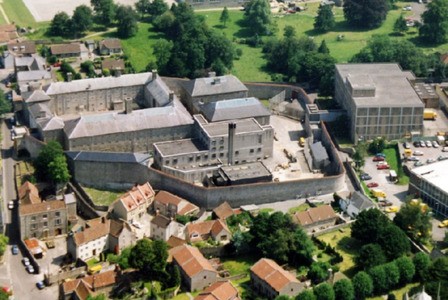 A senior prison guard at Britain's only military jail has been accused of a series of sex attacks on colleagues and inmates a court heard.
Sergeant Ronnie Thom, 43, a married father of three, apparently boasted about threesomes he had with his wife and had a 'private' body piercing that he would show to victims.
One of his victims broke down whilst testifying against Thom and told the court how he demanded sex from her despite knowing that she was a lesbian.
She described being approached by the defendant at a bedding store within the military corrective facility, H.M. Shepton Mallet.
"I was terrified that he was going to rape me. I was in a very vulnerable position," she said.
"He pushed me on to some bedding and pressed up against me. I was frozen with fear. I don't know where I got the strength from but I managed to push him off against the wall, unlock the door and left."
She also spoke of an earlier incident in which Thom had pressured her against a wall.
She continued: "It was a forceful kiss. It was disgusting. He put his tongue down my throat. I pushed him away. He said how much he wanted me.
"Someone knocked at the door and he stopped. I was saved by the bell. I thought "Thank God" and darted out of the room."
The woman also said that Thom often confided in her and told her private information without her asking for it.
He offered that information without me prompting. I listened but didn't ask any questions," she said.
Thom allegedly told the woman about how he was a swinger, took part in dogging session and had threesomes with his wife.
She also added that Thom had shown her images of himself and two other women completely naked on his laptop.
Thom left the Army last May after a 25-year service and denies eight charges of sexual assault against colleagues and two charges of conduct to the prejudice of good order and military discipline.
Prosecuting, Lieutenant Colonel Dave Phillips said: "He used his position to act as a sexual predator targeting vulnerable members of staff to satisfy his own needs."