Gunmen drove a van full of gas canisters into a Microsoft office in Athens before setting the vehicle on fire, police said.
No one was injured in the attack on the company's headquarters in the northern suburb of Maroussi. The van was wrecked and ground-floor offices badly damaged.
The attack, which took place in the early hours, was carried out by at least two gunmen who forced security guards from the building before triggering an incendiary device inside the vehicle.
No one has claimed responsibility for the attack. Authorities said there were no warnings.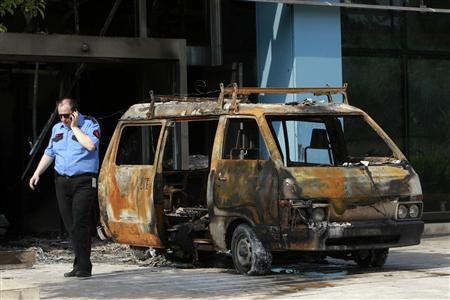 The offices have been shut for the day.
Company spokeswoman Lia Komninou told Greek channel Skai TV: "Staff were told not to come to work today and probably also tomorrow."
The van, which contained three gas canisters and five cans of petrol, was wrecked in the explosion and the ground floor of the US software firm's office was heavily damaged.
Firefighters estimated the damage to be worth around €60,000 (£48,000), Reuters reported.
The two security guards who were on duty at the time have given statements to police and the incident is being investigated by Greece anti-terrorism squad.
There have been several arson attacks in Greece in recent years, attributed to the country's economic plight and the imposition of painful austerity measures.
The attacks have usually been carried out at night by left-wing extremists and small anarchist groups against banks, foreign firms and politicians, with few, if any, injuries.
The fatal police shooting of a teenager in Athens in December 2008 led to widespread riots across the country.
One group that had appeared in the aftermath of the rioting set itself apart by claiming responsibility for shooting dead an anti-terrorism police officer in central Athens in 2009 and a journalist in 2010.
An explosive device was left on an empty subway train in Athens in February. A far-left group claimed to have planted the bomb.