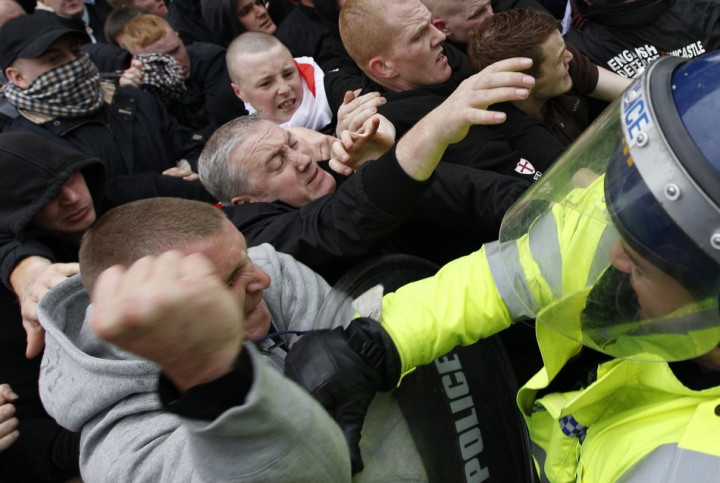 The English Defence League (EDL) have been given permission to march through Leicester on 4 February, with the police reassuring there will not be a repeat of 2010's violence.
The march from the EDL coincides with a counter-protest from the from Leicester United Against Fascism (LUAF) who are set to march along a separate route from the far-right group.
Leicestershire Police and Leicester City Council have told residents that there will not be a recurrence of the clashes in 2010 in which 13 people were arrested and violence spread away from the main demonstration site.
"We know that there will be some people looking at the march routes who immediately feel concerned and these are not feelings we take lightly," said Leicester Police Chief Superintendent Rob Nixon.
"Both the EDL and Leicester UAF came to us with a plan of where they would like to march. These were both carefully risk assessed and it was this which formed the basis of any negotiations with the event organisers. There has been lots of dialogue between the organisers, the police and the city council to get to this point."
The regional officer for the EDL's Blackpool and LGBT Divisions Liam Wood threatened that he is going to "smash up Leicester" on his Facebook wall, leading to fears that this will not be the peaceful march promised by the EDL.

The EDL wrote an open letter the Leicester businesses reassuring them they plan to hold a peaceful demonstration and that previous protests "where such Organisations as the UAF, Antifa and Hope Not Hate have not been in attendance our demonstrations have passed without any problems."
Both the EDL and UAF are due to arrive at their pre-arranged assembly points at 11am and begin their marches at 12:30pm.
"None of us want these marches to take place, but looking at what happened in Leicester and other cities last year, we believe the marches will cause less disruption than the static demonstrations of October 2010," said Leicester's City Mayor Peter Soulsby.
"Our priority is to ensure that people can go about their business safely, with the minimum amount of disruption on February 4th, and we are working very closely with the police to achieve this."
Leicester has a large ethnic minority population, particularly south Asians. It is believed to be on course to become the first city in the UK where white citizens are in the minority.