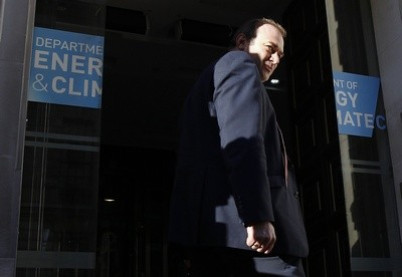 Prime minister David Cameron's big idea to claw back some of the political ground he lost to Labour over energy prices was to announce the rolling back of so-called green levies from power bills.
So Labour MPs expressed great surprise when, during a setpiece Commons debate on the issue, energy secretary Ed Davey did not once mention green levies in his statement.
Labour's surprise was entirely artificial, of course, because everyone in Westminster knows full well that Liberal Democrat Davey and his boss, deputy prime minister Nick Clegg, were not consulted before Cameron made his on-the-hoof announcement during a stormy question time session against Opposition leader Ed Miliband a week ago.
And they were not happy. The LibDems have always prided themselves on being the greenest of the green and were fuming that Cameron, who once attempted to seize the mantle for the Tories with the long-abandoned "vote blue, go green" slogan, had decided to tear up the coalition's green credentials.
In a quickly stitched-together deal, the two sides of the government decided the compromise was to take the levies off energy bills and put them on to general taxation instead, something Clegg later suggested was a good idea anyway because it was a more progressive form of taxation.
It later became clear, however, that these levies also include a series of social measures aimed at helping vulnerable people keep warm in the winter months - so opening up another rift.
The LibDems insist that only £50 of the levies are for green projects such as wind and solar power while the remaining £62 is to help people with greener boilers and insulation and other initiatives which should reduce bills.
So, perhaps understandably, Davey could not bring himself to mention the issue when he delivered his annual energy statement to MPs and was only forced to confirm the policy when pressed on it by Shadow Energy Secretary Caroline Flint.
What he did announce, however, was a plan to force energy companies to allow customers to swap suppliers within 24 hours rather than the current 5 weeks, moves to introduce "criminal sanctions" on any company found manipulating the market and a competition inquiry into the industry. There were, however, catches.
On swapping suppliers he said it could not happen overnight because: "suppliers would say 'OK we will put our prices up to cover the cost'." So he will talk to the suppliers to gradually meet his 24 hour target.
When it came to criminalising the manipulation of markets, it was pointed out that that was already illegal. So he seems to mean he will make it even more illegal.
And Flint pointed out that the competition inquiry was exactly what the energy companies had been asking for as a way of kicking the entire issue into the long grass.
It is fair to say Davey did not look comfortable during the statement. He faced routine gasps of "Oohh" from Labour MPs as they mocked his claims to be getting tough with the industry.
And he faced a powerful onslaught from Flint who declared: "Oh deary, deary me. I feel for him. The prime minister has clearly lost the plot...this was an annual excuses statement.
"The government has given the energy companies what they want, a review led by the same Ofgem which allowed them to rip consumers off in the past," she said.