Click here to know where to betting odds, prediction and where to watch live Brazil vs Netherlands.
Click here to know where to betting odds, prediction and where to watch live Germany vs Argentina.
Cortana's World Cup 2014 predictions have come true yet again. Microsoft's virtual assistant correctly predicted that Germany would beat Brazil and that Argentina would beat the Netherlands in the semi-finals.
This takes her tally to 14 accurate predictions with no misses. The big question is if her next prediction for the World Cup 2014 final between Germany and Argentina will come true.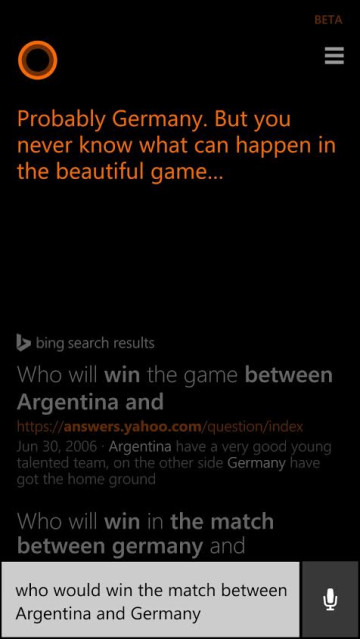 Cortana now predicts that Germany will beat Argentina in the World Cup 2014 final to clinch the trophy and if this prediction does come true, then it will be Germany's first World Cup title since the country's win was against Argentina in the 1990 final.
Following last night's dour semi-final which Argentina won on penalties, IBTimes UK asked:
"Who will win the match between Argentina and Germany?"
Cortana, which is available on Microsoft's Windows Phone 8.1 software, replied:
"Probably Germany. But you never know what can happen in the beautiful game..."
We decided to ask another question just to make sure:
Who will win the World Cup?
This time Cortana was not as bullish, replying:
"Even Bing isn't sure, but maybe if you cheer really hard for Germany you can tip the scales."
We are not sure however how many people in the UK will be lending their voices to support the Germans on Sunday.

Cortana vs Paul the Octupus
The digital assistant's count of accurate predictions has exceeded those of Paul the Octopus - the sea creature which supposedly had psychic abilities and went on to predict the winning team in eight of the matches at the lat World Cup - including the final.
Cortana's gets its predictions from Microsoft's Bing search engine, which has been configured to offer World Cup predictions. Also worth noting is that the predictions aren't restricted to just sports events. The search engine has also forecast the outcomes of several reality-TV shows, including The Voice, Dancing With The Stars and American Idol.
How Does Cortana Predict World Cup 2014 Match Outcomes?
"The process of predicting outcomes of sporting events is unlike voting show predictions, as popularity and some sentiment signals do not play similar roles in determining who wins a contest", said Microsoft in a blog post.
"Rather, the actions and performances of a handful of individuals solely determine who wins, loses, or ties. For the tournament, our models evaluate the strength of each team through a variety of factors such as previous win/loss/tie record in qualification matches and other international competitions and margin of victory in these contests, adjusted for location since home field advantage is a known bias."
Read the entire explanation here.