Japan's unemployment rate dropped to a six-year low in December 2013 just as inflation accelerated, government data showed, suggestive of a strongly recovering economy wherein Prime Minister Shinzo Abe's efforts to end deflation were making headway.
The seasonally adjusted jobless rate fell to 3.7%, from November's 4%, beating expectations. Economists had expected the unemployment rate to drop to 3.9%.
The jobs-to-applicants ratio rose to 1.03 from 1.00 in November, exceeding the median forecast of 1.01 in a Reuters poll.
The availability of jobs improved to a six-year high. The number of new job offers rose 2.8% in December from the preceding month and was up 10.9% on the year, data from the Ministry of Internal Affairs and Communications showed on 31 January.
Inflation Accelerates
Government data also revealed that Japan's inflation accelerated to its highest rate in over five years in December 2013. Prices excluding volatile fresh-food costs climbed 1.3% on the year, beating expectations. Economists polled by The Wall Street Journal and the Nikkei newspaper forecast a 1.2% increase in consumer prices.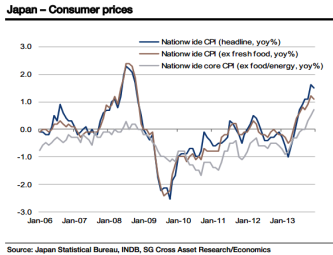 Prices including fresh food costs rose 1.6% on the year in December.
Consumer prices also increased for the whole of 2013, the first annual increase in five years. The core index for 2013 climbed 0.4% after a 0.1% fall in the preceding year.
Societe Generale Cross Asset Research said in a note to clients: "The Bank of Japan (BoJ) explained in its interim assessment of the semi-annual inflation outlook that the yoy rate of increase in the CPI (ex fresh food) will be around 1.25%, implying that the rate of inflation growth is unlikely to accelerate for a while.
"In our view, an inflation rate of above 1.0% is likely to be maintained, but there will be no acceleration of inflation towards 2.0% (the BoJ's inflation target) for the time being."
"We therefore expect the BoJ to implement additional QQE (Quantitative and Qualitative Easing) in April, especially given the downside risk to the economy after the consumption tax hike takes effect in April."
BoJ governor Haruhiko Kuroda has said that consumer inflation would surpass 1% in the first six months of 2014
Wage Hike
Both BoJ and Goldman Sachs have asked Japanese business leaders to increase wages, with the investment banking major warning that wages ought to increase for "Abenomics" to succeed.
Higher prices could erode household spending power in the world's third largest economy, especially if employers refuse to increase wages in the coming months.
A lower purchasing power would then impact consumer spending, threatening to disrupt Abe's efforts to pull the Japanese economy out of weak growth.