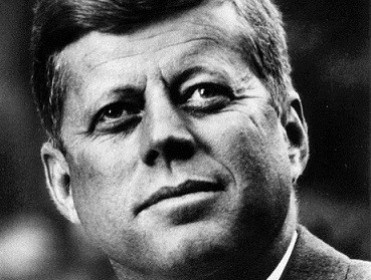 The brain of assassinated US president John F Kennedy may have been stolen from the National Archives by his brother, a new book has claimed.
According to author James Swanson, the former president's brain was taken by his brother Robert in order to conceal the true extent of his mental state.
The claims are made by Swanson in his new book End Of Days: The Assassination Of John F Kennedy, excerpts of which have been published by the New York Post.
In the book, Swanson writes: "Not all the evidence from the assassination is at the National Archives. One unique, macabre item from the collection is missing - President Kennedy's brain."
Swanson writes that after Kennedy was killed, his brain was placed in a container and stored in a Secret Service filing cabinet before being placed in a footlocker with other medical evidence in the National Archives.
Swanson added: "[It was] placed in a secure room designated for the use of JFK's devoted former secretary, Evelyn Lincoln, while she organised his presidential papers."
In October 1966, it was discovered that the brain, the tissue slides and other autopsy materials were missing from the archives and have never been seen since, according to the author.
Swanson adds that Robert Clark, the attorney general at the time, uncovered "compelling evidence suggesting that former attorney general Robert Kennedy, aided by his assistant Angie Novello, had stolen the locker".
Swanson debunks claims by conspiracy theorists that the brain was taken in order to hide the true events of the day Kennedy was shot - including claims that he was shot from the front and not behind as the official records say.
"My conclusion is that Robert Kennedy did take his brother's brain - not to conceal evidence of a conspiracy, but perhaps to conceal evidence of the true extent of President Kennedy's illnesses, or perhaps to conceal evidence of the number of medications that President Kennedy was taking," he adds.
End Of Days: The Assassination Of John F Kennedy is due to be published on 12 November, just a few weeks before the 50th anniversary of Kennedy's death.