Johan Bruyneel has become the latest victim of the US Anti-Doping Agency report which accuses Lance Armstrong of leading 'the most sophisticated, professionalized and successful doping programme that sport has ever seen' after being sacked by the Radioshack-Nissan team with immediate effect.
Bruyneel was managing director of the U.S Postal Service team from 1999-2007, during each of Armstrong's Tour de France victories, which he was stripped of by the USADA earlier this year.
Fabian Cancellara has expressed concern after Bruyneel's name was cited 129 times in the report, claiming he could be forced to leave the team, but Radioshack have prevented losing one of their premier riders by sacking the 48 year old.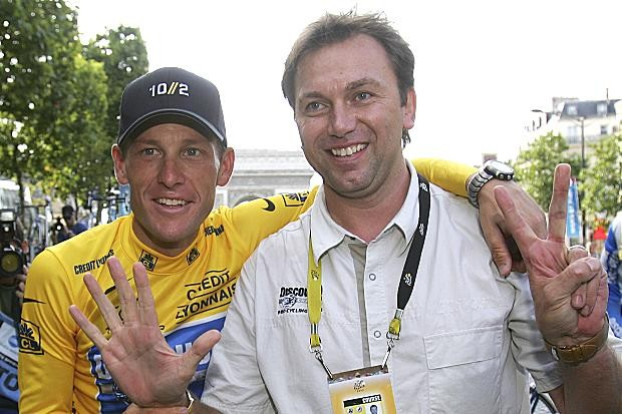 "The Reasoned Decision published by the USADA included a number of testimonies as a result of their investigation," a Radioshack statement read.
"In light of these testimonies, both parties feel it is necessary to make this decision since Johan Bruyneel can no longer direct the Team in an efficient and comfortable way. His departure is desirable to ensure the serenity and cohesiveness within the Team.
"RADIOSHACK NISSAN TREK wishes to thank Johan Bruyneel for his dedication and devotion since his arrival in the Team.
"The USADA investigation does not concern the activities of Mr. Bruyneel while managing the RADIOSHACK NISSAN TREK Team. Johan Bruyneel contests the validity of the procedure as well as the charges against him."
Bruyneel was described in the USADA report as a key element in the organised doping ring and is the latest implicated in the controversy to be punished.
"The overwhelming evidence in this case is that Johan Bruyneel was intimately involved in all significant details of the U.S. Postal team's doping program. He alerted the team to the likely presence of testers. He communicated with Dr. Ferrari about his stars' doping programs," the report states.
"He was on top of the details for organizing blood transfusion programs before the major Tours, and he knew when athletes needed to take EPO to regenerate their blood supply after extracting blood. He was present when blood transfusions were given. He even personally provided drugs to the riders on occasion."
Six of the 26 witnesses who submitted testimonies in the report have been handed bans from the sport having confessed their own guilt in giving evidence against Armstrong, who denies the charges.
Levi Leipheimer, Michael Barry, Tom Danielson, Christian Vande Velde, David Zabriskie and George Hincapie have all been suspended for six months and seen previous results erased for their involvement during their day at the US Postal Team.
The 1000 page report, published on Wednesday has been submitted to the International Cycling Union, the World Anti-Doping Agency and the World Triathlon Corporation for assessment.