Judge John Tsoho steps down in Nnamdi Kanu trial
Tsoho steps down after Kanu and co-defendants accuse him of conflicting rulings
The judge presiding over the trial of pro-Biafran leader Nnamdi Kanu in Abuja, federal capital of Nigeria, has stepped down. Justice John Tsoho is expected to transfer the case back to the Chief Justice of the Abuja Federal High Court, who will appoint another judge.
Pro-Biafrans are calling for the independence of Biafran territories that were forcibly annexed to modern-day Nigeria during British colonisation, which ended in 1960.
Kanu is the leader of the Indigenous People of Biafra (Ipob) and director of Radio Biafra. He and his two co-defendants, Benjamin Madubugwu and David Nwauwisi, are standing trial on treasonable felony charges.
The motive behind Tsoho's decision is not cleat yet. However, the move came days after Kanu and his co-defendants asked the National Judicial Council (NJC) to probe Tsoho over alleged "conflicting rulings".
Tsoho was accused of reversing a previous ruling against a prosecution request that allowed witnesses to disguise their identity as they testified against the trio, the Vanguard newspaper reported.
The three had been represented by lead counsel Chuks Muoma. The trial, however, suffered a setback in June after Muoma claimed a new lawyer had been introduced to represent Madubugwu.
The trial was adjourned to 26 September to allow the new lawyer, Amobi Nzelo, to study the documents relating to the case.
Kanu was arrested in Lagos last October on conspiracy and terrorism charges, which were later dropped.
The Abuja High Court initially ruled in favour of granting bail to Kanu. However, in December 2015, President Muhammadu Buhari said the Ipob leader would not be released amid fears he could jump bail and flee to the UK, as he holds both a British and a Nigerian passport.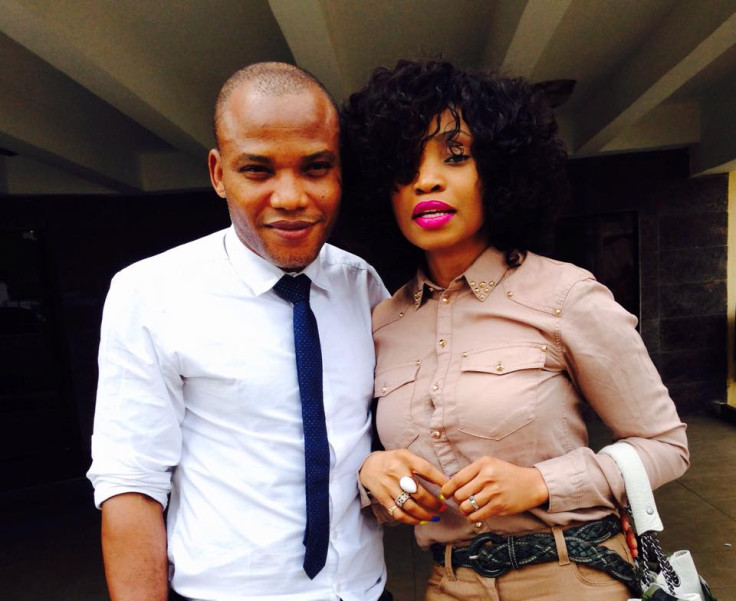 Nigeria's position on pro-Biafrans
A Biafran Republic was established in 1967 and re-annexed to Nigeria in 1970, following a bloody civil war that claimed millions of lives. However, calls for a breakaway have continued since.
The Nigerian government has always maintained that Nigeria's unity was a priority for the country and that although peaceful pro-Biafran protests were welcome, demanding the breakaway of the Biafran territories went against the constitution.
Nigeria's security forces have often been accused of violent acts against "unarmed" and "peaceful" pro-Biafran protesters. These are claims that the authorities strongly deny.
In an exclusive report by IBTimes UK, published in February, Amnesty International confirmed that Nigerian security forces had used excessive force against pro-Biafran protesters on some occasions.
The NGO published another report in June urging the Nigerian government to conduct an independent investigation on alleged killings of pro-Biafrans on 29 and 30 May 2016.
© Copyright IBTimes 2023. All rights reserved.