Liverpool and Manchester United's supporters engaged in exchanges of cruel chants mocking the Hillsborough and Munich disasters following their Premier League match at Anfield on Sunday.
Managers Brendan Rodgers and Sir Alex Ferguson had called for an end to the goading from both sets of supporters prior to Sunday's game, which was used to pay tribute to the 96 fans who died at Hillsborough after a report published 12 days ago exonerated Liverpool fans from blame.
While pre-game tributes were well observed from both sets of supporters, after the full-time whistle, eye witnesses reported that two Liverpool fans made Munich aeroplane gestures towards United fans, who replied with songs mocking the fallen at Hillsborough.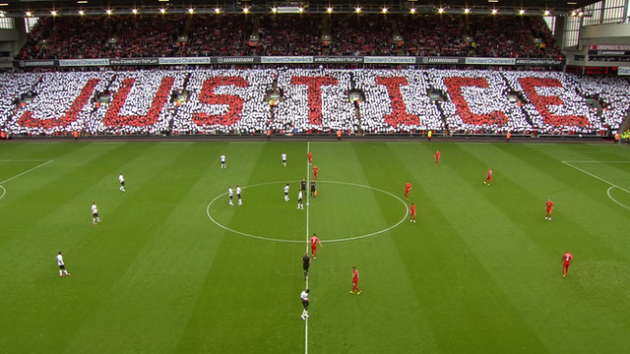 United supporters chanted 'It's never your fault, it's never your fault, always the victims, it's never your fault' and 'Murderers, Murderers, Murderers' in reply to the goading from the Liverpool section as the truce between the two clubs was quickly forgotten after full-time.
The two chants relate to the reports in The Sun newspaper following the Hillsborough disaster, taken from police sources which blamed Liverpool fans for the deaths.
The Hillsborough report, which cleared the Liverpool fans of any wrong doing and found that police reports had been doctored to blame the fans, was published two weeks ago.
Tributes before the game had included Sir Bobby Charlton, a survivor from the Munich air disaster passing a bucket of flowers to Ian Rush, while captains Steven Gerrard and Ryan Giggs released 96 red balloons.
Both sets of fans united to sing the adopted Liverpool anthem 'You'll Never Walk Alone' as kick-off approached to conclude the pre-match pleasantries, which had previously seen Patrice Evra and Luis Suarez put their differences aside and shake hands.
Ferguson had written a letter to visiting fans, asking them to refrain from taunting opposing supporters during the game, but after just 13 minutes, United fans were heard singing: 'Where's your famous Munich song?'
While few would have expected complete harmony between the two groups of fans, many will be forgiven for thinking the game at Anfield and the pre-match pleasantries could be the catalyst for an era devoid of vile exchanges.