'I've Killed lots of Arabs' says Israeli Minister Bennett as Washington Peace Talks Begin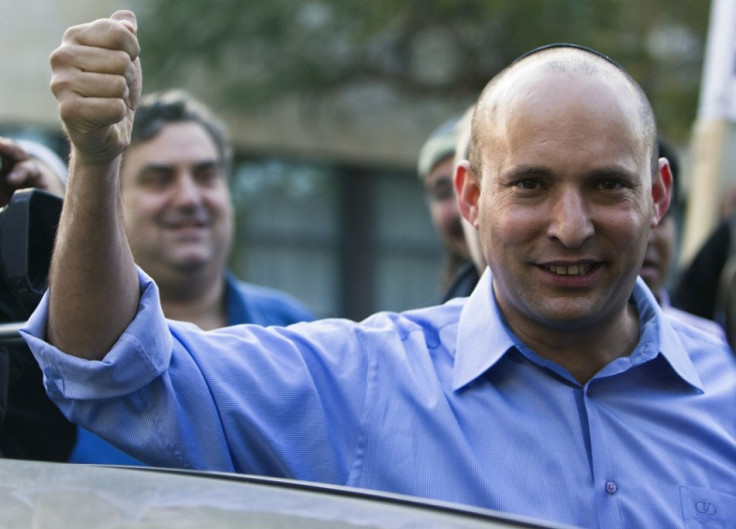 A right-wing Israeli minister called for terrorists to be killed rather than captured alive, after Israel approved the release of more than 100 Palestinian prisoners as a goodwill gesture to ease the resumption of peace talks.
Jewish settlements champion Naftali Bennett, also reportedly rebuked critics who said the practice would be illegal saying he had personally killed "lots of Arabs" and "there is no problem in that".
Prime Minister Benjamin Netanyahu was heavily criticised by conservative forces as his cabinet voted for the release of some 104 Palestinians, accused of attacks against Israelis, ahead of fresh negotiations in Washington.
The releases are to take place in stages over several months.
"If you catch terrorists, you have to simply kill them," newspaper Yedioth Ahronoth quoted, Bennet, who is Israel's Industry, Trade and Labour minister, as saying during a related government meeting.
As National Security Adviser Ya'akov Amidror pointed out that the practice may be unlawful, Bennett replied "I've killed lots of Arabs in my life - and there's no problem with that," the newspaper said.
After the comment was published, causing widespread controversy, Bennett's spokesperson told 972 Magazine the minister referred to killing Arabs, in the context of "operations" he participated in while serving in a combat role in the army.
Bennett believes that to "wipe out terrorists" is a more effective policy rather than keeping them alive in prison and then releasing them, the spokesperson said.
The son of an immigrant from San Francisco, Bennett, 40, served in one of the IDF's elite fighting units before founding a software company, Cyota, which he sold to the US security firm RSA for about $145m.
A former member of Netanyahu's Likud party, he went on to establish Jewish Home, his own political movement which rocked the electoral campaign boat with a clear pro-settler agenda and youthful image, earlier this year.
The party won 12 seats in the 120-seat parliament or Knesset in January's elections.
His party's presence in the government coalition raised fears about the possible successful outcome of peace negotiations with the Palestinians.
"Bennett's casual remarks about 'killing Arabs' reveal the contempt which many Israeli politicians regard Palestinian lives and concerns," said a spokesperson from London-based Palestine Solidarity Campaign, adding that expecting the same politicians to reach a fair peace deal with their Palestinian counterparts "appears wildly optimistic."
Bennett told The New Yorker in January that he will do "everything in my power to make sure they [the Palestinians] never get a state."
After five years of diplomatic stalemate, Israeli and Palestinian negotiators have sat at a negotiations table thanks to an intensive brokering by US Secretary of State John Kerry.
Israel's chief negotiator, Justice Minister Tzipi Livni, her Palestinian counterpart Saeb Erekat and US Ambassador to Israel Martin Indyk held a first meeting earlier this week in Washington.
© Copyright IBTimes 2023. All rights reserved.