Israel: Settlers' Champion Naftali Bennett Gets Powerful Role in New Government [VIDEO]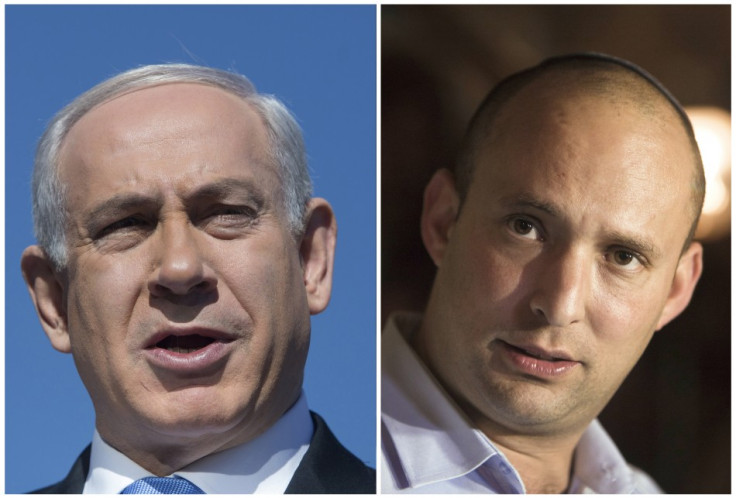 Israeli Prime Minister Benjamin Netanyahu has brokered a coalition deal to form the first government in years without ultra-Orthodox Jewish parties, giving a prominent role to a far-right pro-settlement candidate instead.
After weeks of negotiations to break the deadlock which followed the elections on 22 January, Netanyahu's Likud Party has reportedly agreed to form a government with three other political groups.
The alliance reportedly involves the centrist Yesh Atid party, founded by former TV personality Yair Lapid, liberal movement Hatnua, headed by former minister of foreign affairs Tzipi Livni and right-wing Jewish Home (Bayit Yehudi) party, led by former soldier Naftali Bennett.
According to the coalition deal, Bennett, 40, an outsider who rocked the electoral campaign boat with a clear pro-settler agenda and youthful image that appealed to both young Israelis and ultra-Orthodox Jews, is set to become Vice Prime Minister.
The son of an immigrant from San Francisco, Bennett, 40, served in one the IDF's elite fighting units before founding a software company, Cyota, which he sold to US security firm RSA for about $145m.
Jewish Home, which won 12 seats in the 120-seat parliament or Knesset, will be put in charge of the Housing and Trade ministries.
Netanyahu's right-wing bloc won just 31 seats in the January elections, 11 fewer than it managed in the last election four years ago - forcing Netanyahu to negotiate with other parties to guarantee the requisite 61-seat majority.
The Prime Minister had to dismiss his traditional ultra-Orthodox Jewish political partners in favour of Bennett and Lapid, whose party won 19 seats.
The two charismatic newcomers have been railing against benefits granted to the ultra-Orthodox Jewish minority, such as an automatic exemption from the military draft which is highly unpopular with the wider public.
As head of the second largest party in parliament, Lapid, 49, is poised to serve as the new finance minister, and will also control the Education Ministry.
Tzipi Livni (whose party won 6 seats) is going to be appointed as Justice Minister, while Netanyahu's bloc will retain control of the powerful defence and interior ministries.
The new Israeli government is to be sworn in ahead of President Barack Obama's visit to Israel next week.
The peace-making process with Palestine will be a hot topic of discussion. Bennett, a former leader of the West Bank settlement movement, has advocated the annexation of larger parts of the West Bank to Israel and opposes any concessions to the Palestinians.
On the other hand Lapid and Livni both pledged to make serious efforts to reach peace with the Palestinians.
Livni served as the chief negotiator with the Palestinians under former Prime Minister Ehud Olmert, but her work has been criticised by Jewish Home which objects to her taking the same role again.
Netanyahu has hinted he will be talking the final decision in any negotiations, which have been mired in stalemate since 2008.
© Copyright IBTimes 2023. All rights reserved.